With the flow of time, the world is taking quantum leaps to foster the development of technology rapidly. The smartphone industry is no exception to this. We have seen innovation at its peak in smartphones for the past couple of years. One of the most notable changes is the inclusion of punch hole cut-outs in the display of smartphones. Well, this is an innovative way to come up with fewer bezels and more aspect ratio fora better and immersive screen. This also gives the phones a new and modern look. But, what else can this punch hole apart from housing the camera on the screen?
No doubt, the punch hole makes the phone look good and provides more screen space, but this is also sometimes annoying. Many times the punch hole gets in the way when we try to watch movies and videos. That's when you feel like it to be annoying. Well, everything has a good side and a downside. Let's look at the bright side of the punch hole. Yes, you can put the punch hole into use for other productive stuff. Today's article will cover one of the most amazing features that you can do with your punch hole.
Energy Ring for Samsung devices:
Most of the Samsung devices these days come with a punch-hole display. People also use wallpapers to hide the punch hole. Why hide it, when you can use it in a much better and productive way. This is when Energy Ring comes into the picture.
Energy Ring is a free app that lets you know the battery level using the punch hole. Sounds interesting, but how does it work? The app creates an animated ring around the punch-hole cutout, which keeps moving around it and degrades with time as the battery percentage decreases. Well, this is a much cooler and better battery indicator than anything else. This also puts the punch hole into use for some really productive task. Energy Ring comes with many interesting features.
You can easily customize the settings and also tweak the looks of the animated circle. You can choose from different animation patterns and also from a huge list of colors. The app also automatically changes its colors depending on the battery level. It turns red when the battery level is low. There are several animation patterns you can choose from. The app is available for several devices but today we will be talking about some of the specific Samsung devices.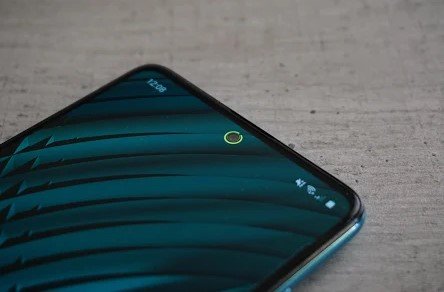 This Energy Ring app that you will find here is solely meant for these devices:
Samsung Galaxy A51
Samsung Galaxy A71
Samsung Galaxy S10 Lite
Samsung Galaxy Z Flip
Energy Ring Features:

Configure the thickness from a width of 1 pixel to a donut thick ring
The app puts almost 0% load on CPU, as it wakes up only to reflect any change in battery level
Set the direction the way you like. It can be clockwise/bidirectional/anti-clockwise
You can hide it while playing movies and games
It can be configured to change colors automatically depending on the real-time battery level
Tha app can have a mono color/multiple color segments/gradient (pro)
You can literally assign any color in the world for your favorite configuration
Energy Ring has a number of cool animations whenever a power source is plugged into your device
You can download the Energy Ring app for your Samsung Galaxy A51, A71, S10 Lite, or the Z Flip and install it to enjoy this beautiful animated live battery indicator. The app can be downloaded from the link given below:
Download Energy Ring (Play Store)
Stay tuned for further updates on the Energy Ring app and more such interesting articles. Also, share this article with all those people who have been wondering about such an amazing app.