ASUS is a Taiwan based multinational company. This tech brand was founded in 1989. Though a pioneer brand, it didn't gain much recognition for a long time. As they kept producing mobiles and laptops under the label ASUS, one thing shot up to receive massive fame among their products. ASUS ROG is a gaming series device from the company. This series was first launched as a laptop series. ASUS ROG laptops are some of the best and high-quality gaming laptops based on Windows OS. ASUS then went on to release the mobile series of the same- ASUS ROG Phones.
This article is all about how to apply wallpaper on your ASUS ROG laptops that change colors according to your RGB. But first of all, check out what the laptop and RGB are about.
ASUS ROG RGB Details-
The ASUS ROG laptops are very attractive and stylish. One thing that separates this series from any other laptop or brand is the RGB setup. RGB is the light setup on a piece of equipment, laptop in this case. ASUS not only provides color changing and modified keyboard backlights. The ROG series is known for the RGB strips set at the bottom of every laptop.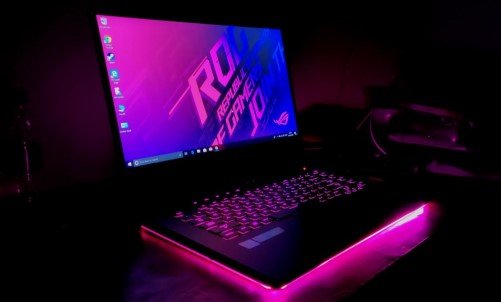 The strip starts from the very end of the left, goes all the way to the right covering the center. It is in sync with the keyboard backlights. Various RGB modes come along with the ASUS ROG laptops. Read the list below.
Starry Night
Music
Smart
Dark
Static
Breathing
Strobing
Color Cycle
Rainbow
This set of RGB modification is called the AURA Sync in ASUS ROG series. Each of them implements a distinguished pattern of emitting light out of the RGB strips. The smart minds have come up with wallpapers to match the RGB patter of color cycle/ rainbow with color-changing ROG logo wallpapers. Click the link below to download the wallpaper and rock the sync with your RGB.
Download ROG color-changing logo to match your RGB-
Click the link below to redirect to a page from where you can download the wallpapers. You will find a yellow "Download Wallpaper button".
DOWNLOAD ASUS ROG RGB WALLPAPER
After downloading the wallpapers, go to "personalize" on your homepage and set it as wallpaper. Turn on AURA sync and set to rainbow/ color cycle.
You can also download the app "Bionix" to time the wallpaper the way you want. The link is provided.
Reach out to us via the comments section if you face any trouble downloading.
Rest assured, we post related content and updates every day, so stay tuned! Also, share this article with all the ROG users!