American tech giant Apple has always managed to reach the top spots in the list of prominent brands in the tech sector. Well, who doesn't know Apple, as such they don't need an introduction. Apple products have always defied the odds and outperformed among other devices. Apple is prominently known for its sleek and beautiful laptops that are not just lightweight but deliver impressive performance. MacBook Air and MacBook Pro are two choices offered to users with the Pro models being more powerful. The MacBook Air is undoubtedly one of the slimmest, thinnest, and beautiful ultrabook in the world.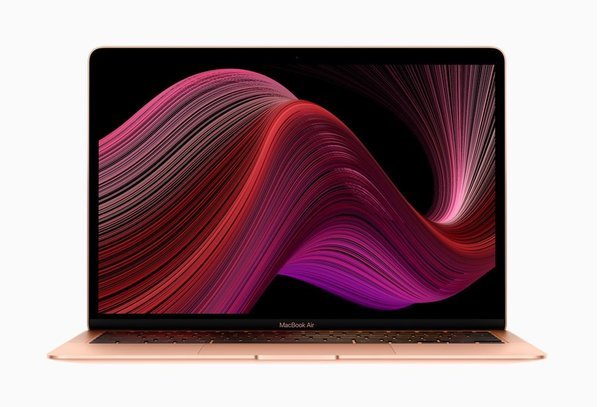 The device comes with a Retina display. It houses the 10th gen Intel Ice Lake processor. The device comes with the latest WiFi 6 as well. It has much narrower bezels than before. The MacBook Air 2020 has finally the long-awaited scissor mechanism magic keyboard. The device also comes with a much better and improved keyboard. The MacBook Air 2020 looks good and almost similar to its previous versions. The device comes with the latest iteration of macOS Catalina.
Now, doing the main talk: The Apple MacBook Air 2020 is a real piece of beauty when it comes to looks and design. Not just the form factor and the design of the laptop but something which adds more to its beauty is the amazing wallpapers this laptop comes with. With beautiful and vibrant wallpapers, the MacBook Air 2020 sets itself apart from the others and soothes our eyes with its enchanting beauty.
Apple MacBook Air 2020 Wallpapers:
With an amazing display and a collection of beautiful and vibrant wallpapers, the MacBook Air 2020 really throws us a sight to enjoy. We know you have been looking for these and wanted to rock these beautiful wallpapers as well. So, today we have got you covered with these awesome wallpapers from the Apple MacBook Air 2020. These are some of the beautiful wallpapers of the MacBook Air 2020. But, wait there are a lot more of such wallpapers. You can download them below.
There are a total of 4 beautiful wallpaper that you can download from the link given below. These wallpapers are of great quality and FHD+ resolution. Enjoy Peeps!!
---
SEE ALSO: