Destiny 2 is a free to play an online multiplayer shooting video game. It is the sequel to Destiny and its expansions. Set in the mythical solar system, the game has PvE and Pv modes. Free Roam mode is also available in the game to explore the planets. It has four post-release contents out of which Forsaken and Shadowkeep are the large expansion and after Shadowkeep release game was moved to steam with standard edition as free.
Eververse Items are available for purchase from an Eververse Trading Co. storefront. Eververse is the name of a special vendor who provides guardians with these cosmetics items. These cosmetic items don't affect the players' gameplay in any manner other than they look. There are three ways of getting eververse items: Bright Dust, Bright Engrams, and Silver.
Bright Dust: It is an in-game currency that players earn by completing bounties given by different vendors. Before Shadowkeep update, players used to earn bright dust by dismantling eververse items, but the feature is no more available. Bright Dust can be used to buy items from the inventory that rotates every week.
Bright Engrams : Before Shadowkeep update, players could get Engrams from levelling up, but now these are only available after ranking up the Season Pass.
Silver: It is the currency that players can buy using real-money from Eververs.
Destiny 2 Weekly Reset Eververse Inventory This Week
The items in inventory is changed after the weekly reset happens on Tuesdays at 10 AM PST.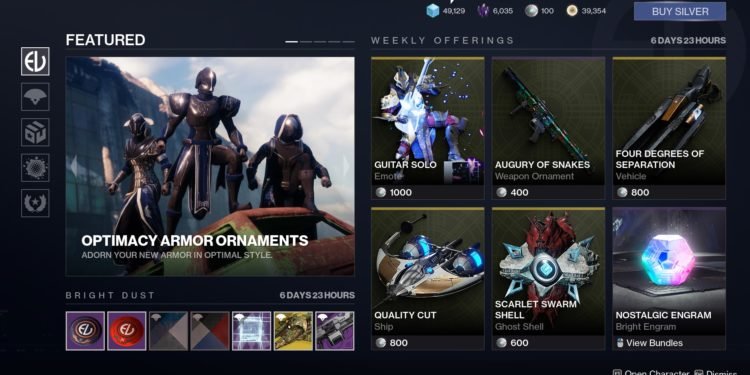 Silver Items
Bright Dust Items