As of now, Destiny 2 fans have been enjoying the Season of the Worthy, which is the ongoing Season. The update brought a plethora of in-game changes like new raids, armor, weapons, and whatnot. But, players are craving for more and already excited about the next season update.
Well, it's too soon to talk about season 11, as the update is months away from the official release. But, some season 11 details have been leaked on the popular social media platform Reddit. And here, we will be mentioning the leaked details about the upcoming Destiny 2 season 11 update. So, stay tuned if you are excited already.
Destiny 2 Season 11 Update Release Date –
Before going deeper into the details, let talk about the release date of season 11. Well, the official release date hasn't been announced yet. Still, considering the release pattern of the season updates and the expiry time of the ongoing season, we can say that Destiny 2 season 11 release date is June 9.
Again, the official arrival date is not official yet. A delay may occur considering the current lockdown situation worldwide due to COVID-19. So, stay tuned, we will keep you updated.
Destiny 2 Season 11 Update Details –
The details that we are going to mention below are based on the Reddit post submitted by u/SymphoniCsC. The Redditor datamined the PC files of Destiny 2 to find out details of the unreleased content.
New Exotic Energy SMG: The Mountie
-Weapon barrel is in the form of a mounted rider firing bounties at enemy combatants
-900 bounties-per-minute archetype
-has intrinsic perk "bountied," sending enemy players to public events to complete bounties before being able to rejoin the game
-There are early concerns from some players who believe this may "break the meta" in Trials, particularly when paired with Revoker
-Those who disagree say that this gives Titans a well-defined role in high-level PvP, as Barricades will be more important than ever
Destiny 2 Season 11 New patrol area: The County –
This is an exclusive patrol space reserved for players who have donated 5,000+ fractaline in Season 10.
-2D semi-open-world landscape where player clicks targets until arbitrary fractions are fulfilled; e.g., target reads 0/10, the player clicks 10 times until the next destination appears. Players are not allowed to leave The County until all destinations are sufficiently clicked, and their sentence is served.
-It is currently unclear how Bungie will determine who is eligible or ineligible to explore The County, as there is presently no proof that anyone has ever donated any amount of Fractaline.
-early rumors suggest a Season 11 rollback to Season 9.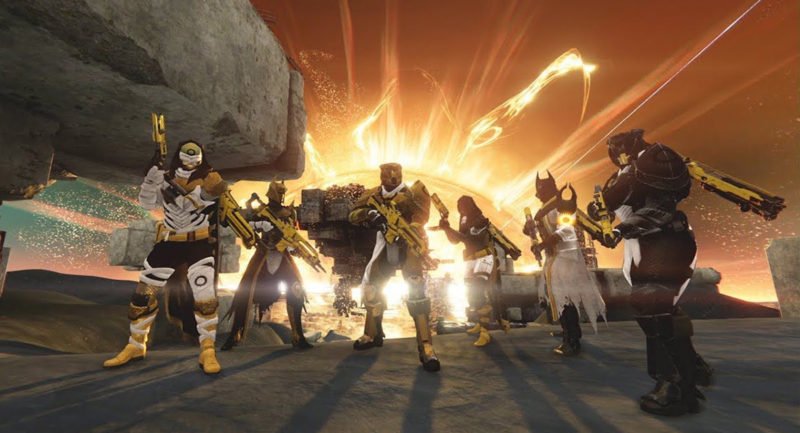 Destiny 2 Season 11 New Raid Confirmed –
-Raid takes place in a bouncing house with the final boss in the form of a giant Taken bounty hurling numbers (Captain-style) at your fireteam
-boss-fight mechanics center around avoiding the high-damage digits and fleeing the shockwaves from each boss bounce while cycling through your Collections tab to view previous seasons' seasonal armor mods (Why? Exactly.)
-If you are struck by one of the numbers, fear not! Bungie has been listening. These numbers are your personal statistics that had been purged from emblems in Season of the Worthy!
-Boss's final phase consists of players correctly reassigning emblem statistics to appropriate emblems while deftly maneuvering through the bouncing house
-Any "uncollected" statistics will land in the Postmaster. Be sure to get them before it fills up!
Destiny 2 Season 11 Storyline –
Season 11 update will continue a new storyline. According to the leaks, the season 10 storyline will end with Rasputin burning the Almighty to Ashes, and season 11's storyline will start right from there. Pyramids, which were teased throughout the ongoing season, will finally appear, and the Darkness supposedly will take hold over the city. Well, this was the part of a leak, we will suggest our readers take it as a pinch of salt, as nothing is official for now.
Stay tuned; we will be updating this space with more related news and leaks.
---
[Update – April 28]
Some more Destiny 2 Season 11 details have been leaked online. The information has been datamined and submitted by Reddit user u/SymphoniCsC. He has already mentioned details like new raids and a new patrol area.
Below, you can check out more details on the same. The leaked info includes new Gambit mode and new season activity. Check out the description below for finer details.
New Gambit Mode: Gambit Prime Squared!
The gist of this one is simple: pit two fireteams against one another, one formed entirely of AFK bots and the other of living, breathing human beings, and see which loses the will to live first!
If you think the humans are the favorite in this contest, you may be mistaken. The humans will delude themselves with some type of hope or purpose whereas the bots are more likely to figure out that there is absolutely nothing to be gained from this game mode and make an early exit.
Leaving early will penalize you by rewarding you with 20 bounties.
New Seasonal Activity: The "Bone-Breaker"!
-This activity will be unlike ANY of its predecessors as Guardians will be placed into a 6-player non-matchmade, phone-booth-sized arena against a massive, eye-blasting Hive Ogre where they will fight to defend their Vaults (located beneath their feet)!
If you fail the activity, you will be lectured by the Hive boss about how your now-deleted vault simply serves as an Ogre-knows-best way of "breaking your bones" for the better. Besides, you complained about lack of vault space anyway.
Successful completion of the activity rewards you with a Hive-themed currency, the "Bahn'tee," which is used to purchase bounties.
No activity-exclusive rewards, triumphs, or titles yet detected, but that brings me to the final piece of information below.