The website SBMMWarzone.com which provides a complete breakdown of the matches you play in COD-Warzone is going to be shut down in 2021. Here's everything you need to know.
SBMM Warzone
Anyone who plays COD- Warzone knows the fact that Warzone features the Skill-Based MatchMaking process for their multiplayer matchups. Since the game lacks a proper ranked system, the SBMM partially manages to get players with similar skill levels in one lobby. A hot topic among the COD- Warzone players has always been that in which skill-based rating they belong. With no direct information on the player's SBMM rating in-game, it often gets hard to understand the system at all. But fortunately, SBMMWarzone.com provides them with every piece of information they need.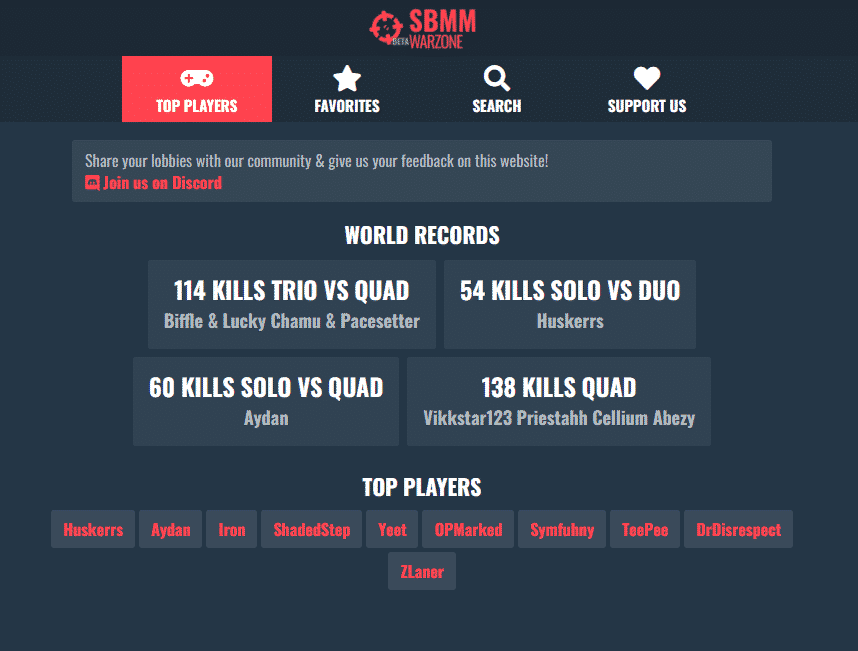 How does the SBMM Warzone website work?
SBMMWarzone uses Activision's API (Application Programming Interface) to source every game lobby's data. Since they were using Activision's API without a proper partnership, they are asked to shut down by Monday or face legal consequences. The website owners repeatedly tried to reach Activision for Partnership which was denied every time.
Activision's lawyers reached out and asked us to shut down https://t.co/aX094FtqB8. According to their ToS, we can't use their API. We've tried to reach them multiple times to become Partners, now is our last shot. Anyone working at #Activision, please reach out [1/7] ⬇️ pic.twitter.com/EBFNSee2R7

— SBMM Warzone (@SbmmWarzone) March 26, 2021
The developers allegedly "want to guarantee their players' privacy" and limit API usage to partners (as per their Terms of Service) which is why they threatened to strike SBMM Warzone with legal consequences.
However, if they become a partner then it would be beneficial for the whole community. The website devs have also stated that they are willing to modify any aspect of their website to become partners with Activision, but unfortunately, that didn't bear any result.
We've previously stated that we would be very willing to understand the requirements for working with Activision and the improvements/modifications required to become Partners. We are ready to start at anytime. [5/7] ⬇️

— SBMM Warzone (@SbmmWarzone) March 26, 2021
Also, if you are a Legend in SBMM Warzone, you will most likely be getting a full refund as stated by the officials of SBMMWarzone.com.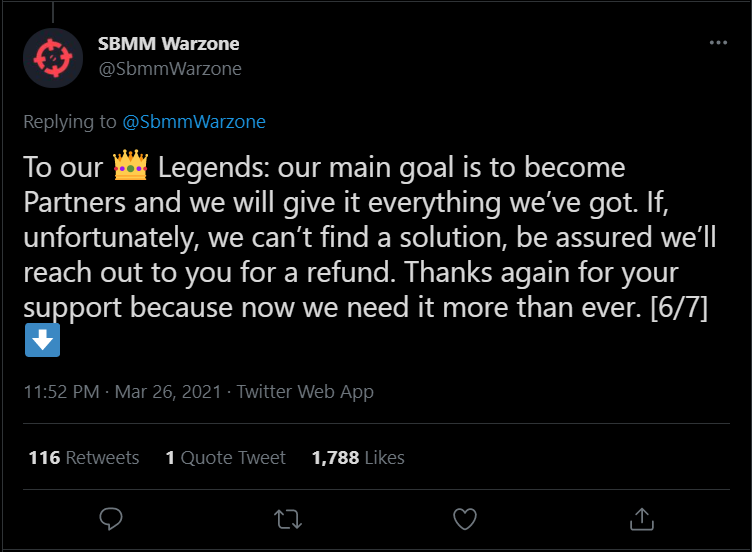 Now, the COD community is hoping that Activision actually discusses a partnership offer with SBMMWarzone.com to avail the services they provide. Players are currently tweeting about it to show their support for SBMMWarzone.com. Well, currently, it looks like SBMMWarzone will be gone for good if they don't act quickly.