GTA 5 released in 2013 and since then there have been various Easter Eggs as well as alarming and at times graphic content found within it's extensive map, one such infamous test is "click to play god".
"Accept-the-chaos.com"
One such site which is more on the graphic and chilling side of content that was discovered by players goes by the name of "The Atheist Society Serving Mankind Under Noteworthy Coordinated Humanism" or "ASSMUNCH" for short, it can be found by searching "www.accept-the-chaos.com" in the in-game browser which you can access through your phone however do this at your judgement.
At first it's an ordinary website that advocates Atheism and spells out evolution to be rooted in science and consists of various quotes regarding science as well.
"Click to play god?"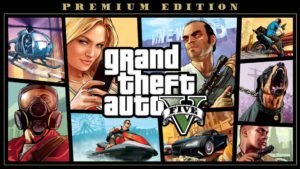 A tab named "want to play god?" caught the attention of users and upon clicking a user is brought to a different page where an image of a married couple with their two kids and dog is displayed, right below it there is a button named "click to play god" upon clicking this button a graphic image of the same family in a grim and horrifying car crash is displayed. However this is just one of the two scenarios available on the website.
Scenario 2 displays a map of Los Santos and upon clicking the same button, a newspaper with headlines reading "Tsunami Kills 200,000 people" is displayed. The bottom line that the website draws through this "test" is that there is only one God and that is mother nature.
GTA 5 is known for many things and one of them is its' depth of trivia behind the content in the game, similarly many fans of the game have speculated that the dog in the first scenario is the ghost dog that Franklin encounters in one of the Strangers and Freaks side-missions "Uncalculated Risk".