Call of Duty: Modern Warfare is a 2019 first-person shooter video game developed by Infinity Ward and published by Activision. Serving as the sixteenth overall installment in the Call of Duty series, as well as a reboot of the Modern Warfare sub-series, it was released on October 25, 2019, for Microsoft Windows, PlayStation 4, and Xbox One.
Recently, several Call of Duty players have been posting about an issue on various social media platforms. According to the users, they are having issues with XP and Progression. Well, a lot of players were reporting the same issue. And if you are facing the same issue, fret not, you are not the only one.
Infinity Ward recently responded and recognized this issue on official social media handles. In the tweet, Infinity Ward's official handle posted that the concerned team is investigating issues with XP and Progression for some players.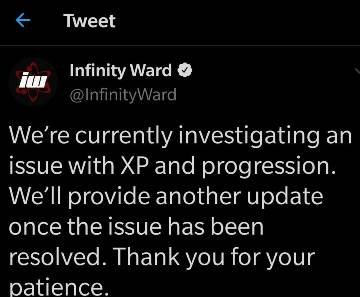 Well, stay tuned, here we will keep you updated with the latest news on the same.