A new season for Call of Duty Modern Warfare is about to go live soon. Today, Infinity Ward has shared the roadmap for the upcoming season which features a myriad of new content for the game. Season 3 in Call of Duty: Modern Warfare and Warzone will begin on April 7 at 11 PM PT on PlayStation 4, Xbox One, and PC
Call of Duty Modern Warfare Season 3 will bring in new multiplayer maps, weapons, operators, new warzone game mode, vehicle skins & much more. During the launch week the following new content will be added to the game.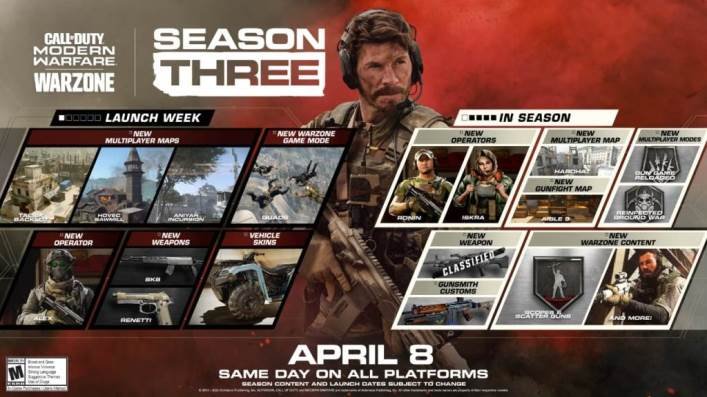 New Multiplayer Maps
Talsik Backlot : In the middle of the Urzikstan desert lies an urban city with a major construction project taking place at its center. With its citizens long evacuated, combat takes place from door-to-door as teams fight for control of the various overlooks and buildings.
Hovec Sawmill – A sleepy farming village is under peril, as its main sawmill building has caught fire. Operators will fight within the burning wreckage and around it, visiting the local businesses such as the butchery, the mess hall, and even the beekeeper's area, which includes a couple of active hives
Aniyah Incursion : You've experienced it in 10v10 and in Ground War – now fight within a more enclosed version of the area based around the central palace in Aniyah Incursion. Note the long sightlines looking out over the main courtyard and pool, along with the small crawl spaces within the palace that can be used to flank your enemies. And be careful with Killstreaks: The Palace can make it tricky to aim them into this complex, so placement will be key to getting those confirmed kills.
New Warzone Game mode
New Operator
New Weapons
New Vehicle Skins
---
Post the launch of Season 3 of Call of Duty Modern Warfare will get the following new content :
New Operators
New Multiplayer Map
New Gunfight Map
New Multiplayer Maps
Gun game Reloaded
Reinfected Ground War
New Weapons & Warzone Content
Call of Duty Modern Warfare Season 3 Trailer