It is about time for people to start thinking about what the next season of their favourite first person shooter experience on their smartphones, Call Of Duty mobile has for them. As Season 6 of COD mobile is still raging on, fans have already begun to wonder what Season 7 would add to the table. Lucky for you, we saved you the hardwork by bringing all the leaks and news under one roof. Following is all the information we have managed to gather regarding everything COD mobile :
Release date
Season 6 was no short of its fair share of welcomed features such as adding the fan favourite 'Rust' in the map roster, alongside 'Saloon' a 2v2/1v1 map and the popular 'Free-for-all' multiplayer game mode. Although it is still on going, Activision has released the ending date for Season 6 to be June 1, 2020. Season 7 is expected to follow shortly after in the opening weak of June.
Since patch updates are always released on a Friday before the arrival of the new season, expect one to be released on 29th May, before the release of Season 7.
Battle pass updates
According to a discussion on COD mobile's official sub-reddit, we have managed to gain information about the theme of the next Battle Pass.
After a player expressed his grievance about the futuristic theme Season 6 was following, and how shiny colours seem so unreal for a Call Of Duty games, Activision replied confirming that Season 7 will have a different approach.
The developers seem to be following an alternative pattern for the theme with every other season being grounded and realistic. Season 7 falls in this category so players should expect to see traditional camos and skins in game. In general, the Battle Pass is released two days after the new season upon so heads up for that.
New map
Season 6 finally brought us Rust, an old school fan favourite map! But what does Season 7 holds for us?
In January this year, Activision held a community poll and gave the players 5 maps to choose from. Those were :
Rust
Terminal
Shipment
Dome &
Highrise
Since Rust saw its release in Season 6, fan were wondering about the inclusion of the other four maps. Lately rumours have started to build up about Shipment seeing a release in Season 7. This is because the map appeared in the pre-alpha gameplay trailer before the game was released, so it is very likely files for this map could still be found in the game files.
Weapons
Through some data mining in the game files, the pump action shotgun KRM-262 surfaced. The weapon was previously seen in Call Of Duty : Black Ops 3 and it is suspected to be released in the upcoming season.
LMG M249 and G36 might also debut in the game, the latter being spotted in test servers of the game. Furthermore it has been confirmed by the developers that they plan to release a free version of the gun HBRa3. It is widely considered to be the strongest assault rifle in game, by the community.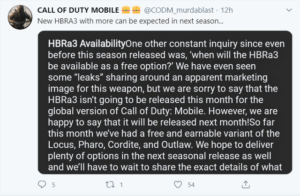 Currently available only through purchase in the in-game shop, a free version is confirmed to be released. It is highly predicted that it will be released in the upcoming new season.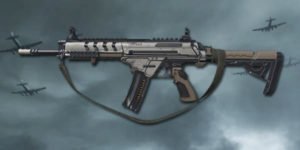 Zombies
After being removed in March during the run of Season 4, we are yet to hear from Activision about the franchise's staple 'Zombies' mode. Data miners have found the game files for Richthofen, who is one of the four major protagonist in COD mobile Zombies. Could this mean that Zombies is coming back? Or would he be a playable characters for Multiplayer and Battle Royale mode?
If Season 7 does include Zombies then fans might get to see :
Nacht Der Untoten, a map confirmed to be in development.
Tranzit, a map which is yet to be released despite its footage available online.
Battle Royale updates
According to the leaks, players might get to visit the following locations within the Battle Royale map :
Paramount
Black Market
Hospital
Ski-Town
Border Village &
Wetland
The addition of Man-O-War and DL-Q33  weapons in the Battle Royale mode is also speculated.
New Scorestreak
Through some leaks, screenshots have emerged showcasing a new score streak. The icon on the HUD resembles the Cluster Strike kill streak from the Modern Warfare Multiplayer. Despite of many screenshot leaks, scorestreak Lightning Strike is still left to be added. Will Season 7 finally bring us that?
New Perk
In the game files, an image is found of an emblem resembling the Overkill perk in the main COD games. Take a closer look at it :
With that it brings us to a close of all the leaks we managed to get our hands on for Season 7. Be sure to stay engaged with us for more updates and patch notes for Call Of Duty mobile.