As a gamer, the idea of earning money when playing games at the same time sounded far-fetched in the past, but now, NFT games challenged this notion and paved the way for people to earn and play at the same time.  Bomb Crypto is another polished NFT game that uses blockchain technology, which allows the in-game assets of the game to be purchased and sold for real money.
It has the same atmosphere and gameplay as Bomberman that was pretty popular in the NES and features a simple fantasy setting that involves heroes and monsters alike. The game has been received well among the audience and to celebrate that, devs have planned many new exciting features that'll take place in the future. Are you curious? Read on more to see what the devs have planned in the upcoming updates & roadmap of Bomb Crypto in 2022.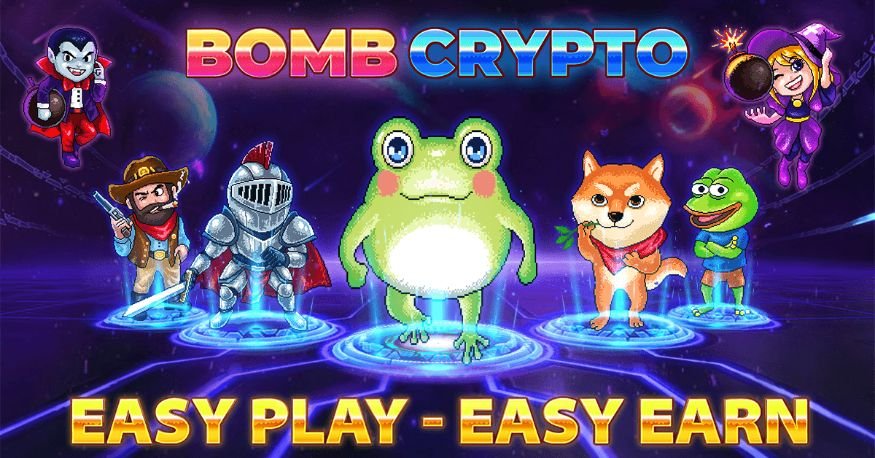 Story of Bomb Crypto.
In the fictional fantasy world, players take control of bomber heroes that are entrusted with the fate of the world by saving it from monsters that intend on terrorizing the neighboring kingdoms. You can freely explore, worlds, fight monsters and bosses. By defeating them, players also earn tokens that serve as an in-game currency, which can be used to upgrade bomber levels, buy new heroes, and more.
Gameplay
Aside from its regular gameplay that involves defeating monsters, and exploring worlds, it features three different game modes that allow the player to adapt to the conditions based on the game modes like Arena battle, Adventure, and Manage heroes. We'll briefly explain every mode to give you a better idea of what to expect.
Adventure-
In this mode, players pick a bomber hero of their own to take part in each level. At every level, they need to eradicate all of the monsters to pass the level. The best part is that players have a chance to earn Bcoins in this mode by destroying blocks and killing monsters.
Arena battle-
As the name implies, players have to engage in combat against other players, similar to how a battle royale game works. It costs a certain amount of tokens to participate in this mode and the bomber heroes will also lose a certain amount of energy after participating in the battle mode. The final winner will receive the amount of the entire tokens from the losing team.
Manage heroes-
This mode operates similarly to recruiting new characters, in this case, heroes. Players can obtain new heroes by doing rescue missions. You can also unexpectedly encounter heroes in unusual places like the prison block. However, the rescued heroes remain in a damaged state and need time to recover in order for them to be used in the game.
Upcoming 2022 features & updates in Bomb Crypto.
Bomb Crypto gained popularity and became one of the most played NFT games in 2021, and to celebrate this, devs have shared their future plans on what they'll be implementing in the upcoming updates. Here are some of the things that we saw in 2021-
Treasure Hunt Mode
Graphic pixel game
Play to Earn
Rescue Heroes.
Adventure Mode
New bosses
Features that we'll see in Bomb Crypto in 2022.
New Challenge
New journey
House Decorations
VIP & Stake
New Story Mode Level
New Battle Mode
New Leaderboard
New Quests and Achievements
New NTF item
New level and PvP map.
We hope that you enjoyed reading this article, stay tuned for more updates at Digistatement.