"There is an imposter among us" – a line every gamer or even non-gamers (because of the huge popularity of this meme template") is more or less familiar with. Released in 2018, on various platforms like PC, PS4, PS5, iOS, and Android, this game now can be considered one of the most popular games owing to its success in interesting gameplay, easy to understand interface, and also its distinct feature that allows players across different platforms to play with each other.
Among Us Popularity
A huge spike in popularity was reached in the mid-2020. This gigantic height of sudden fame was reached during the time of the unfortunate global pandemic of the COVID 19. According to Willard, Twitch streamer Sodapoppin first popularized the game on Twitch in July 2020. Many other Twitch streamers and YouTubers followed suit, including prominent content creators xQc, Pokimane, Shroud, Ninja, and PewDiePie. But due to the sudden nature of its emergence, most of the members of the gamer's community predicted that it will lose its fame in the coming year or two. Among us has surely proved everyone wrong with its stagnant position in the top list of most played games in 2020.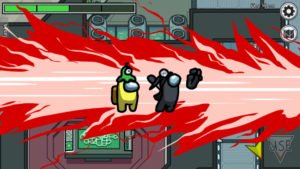 Bluestacks
With the advancements in the world of technology, everything is possible nowadays. Bluestacks, for instance, is such an application that helps in launching an android device on your desktop this emulator runs all the functions of an android device directly on your pc without the presence of an actual android device.
How To play Among Us on your PC:
Download the latest version of bluestacks from their website. You can also click here to download.
Launch the emulator and complete the setup.
Search for among us in the app store and download it.
The icon of the game will be now visible on the home screen
Why choose Bluestacks?
To get the experience of this game in a bigger resolution and enhanced controls
The only other way to play this game on pc is in-stream which is surely not free.