Chapter 227 of Black Clover just had two major reveals.
Devil Magicula's location
In this chapter, we came to know that the devil Magicula lives within the Heart Kingdom. The Queen said she was cursed by him and only has a year left to live. That's why they need Asta's help.
The Spade Warrior
At the last of this chapter, it is shown that Magna, Luck, and Vanessa had snuck into the Diamond Kingdom to scout it ou. There they found that alone mage from spade kingdom defeated all captain class mages.  The whole scene was so freakin that luck back himself and decided to not to fight him.
Another essential thing to remember from this chapter
The water spirit's name is Undine, who takes care of the Queen, a klutz. Her name is Loropechika. She and Gaza were only fighting Asta and his friends to determine their magic class. They explain to them how a mages magic class determines the strength of their kingdom. If a mage's magic class is high, no matter how many he fights, he will win.
Chapter 228 spoilers predictions and release date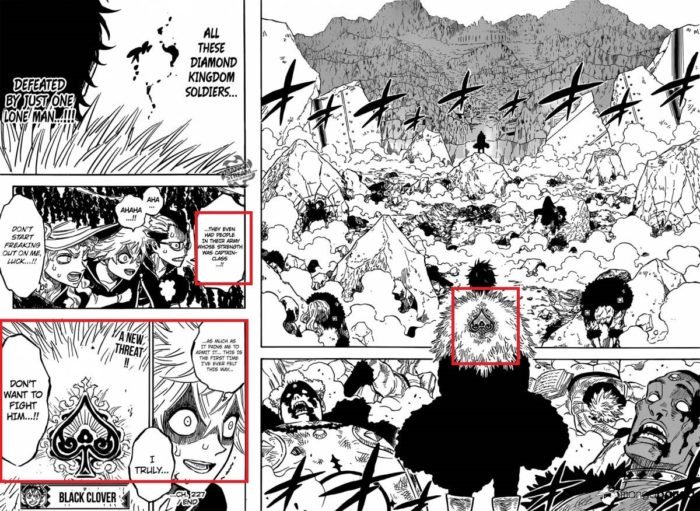 The next chapter will come out on November 9th or 10th. I don't think the next chapter will contain anything about the Spade warrior. It will basically be on Asta finding more about the Queen's curse.
We still don't know if the spade person is connected to the devil's or not or in particularly Magicula but to show him at a time like this is maybe hinting to it.
Article by: Sagar