The Chinese tech giant Xiaomi has always proved its essence to be one of the most prominent smartphone manufacturers across the globe. Xiaomi offers a lot of jaw-dropping smartphone devices available out there. Every device offered by Xiaomi or it's sub-brand Redmi runs on Xiaomi's custom OS MIUI which is the abbreviation for MI User Interface. Xiaomi and Redmi phones are loved by many users in the market today and one eminent factor being MIUI. MIUI provides a minimal, clean and beautiful elegant look to any Xiaomi or Redmi device.
Most of the smartphone manufacturers use their custom OS these days like :
Huawei and Honor – EMUI
Vivo's – FunTouchOS
Xiaomi's – MIUI
Realme and OPPO – ColorOS, RealmeUI(Latest UI for Realme devices)
OnePlus – OxygenOS
The best part of these custom OS is that on contrary to stock Android they are highly customizable. Users can use different skins or apply different themes to completely change the look of their smartphones. Well, today you are here to download the best MIUI themes. So, let's discuss MIUI themes. We have provided a list of best MIUI themes with download links below and we keep updating this post with new MIUI themes. Before we get started with the download link of themes, let's have a look at the history of MIUI.
---
SEE ALSO:
---
A Brief MIUI History:
MI User Interface or MIUI V1, based on Android 2.1, was launched back in August 2010. At that time, Xiaomi added some features to the basic android framework like Music , Notes etc.

Later, the MIUI V2 was launched with a redesigned user interface over the previous version, the MIUI V3 also saw an improvement with a further redesigned user interface.

The MIUI V4  based on Android 4.0 came with an all new user interface and also featured a new anti-virus app .  MIUI V5 launched in March 2013 also came with a new user interface.

MIUI 6 based on Android 5 and MIUI 7 based on android 6 also saw no major improvements other than a few tweaks in the user interface itself.

In 2016, MIUI 8 was launched with latest features at that time like support for second space and dual apps. It also brought several app updates.

In the following subsequent years, MIUI 9 and MIUI 10 were released with Android 8 and Android 9 subsequently offered, and these two versions of MIUI marked a huge change in MIUI history as they came with a lot of changelogs and with loads of new features added.

The latest version, MIUI 11 which is currently based on the latest Android 10, was launched back recently in October 2019. This is by far the most beautiful and feature loaded CustomOS provided by Xiaomi with a lot of amazing new features.

However, you are here to download MIUI themes for your smartphone. So, without wasting any more time, let's provide you the best and latest MIUI 11 themes.
Best MIUI 11 Themes:
We have provided several MIUI themes here. You can download any theme by clicking on the download link provided below the preview image of the theme. The installation of every theme is similar, and you can easily install any theme after downloading it.
How to Install MIUI Themes on Xiaomi/Redmi Devices:
Follow the below steps carefully:
Method 1:- Steps to install MIUI Themes from MIUI Themes app
1. Download the MIUI Theme in .mtz extension on your phone.
2. Open the "Themes" application.
3. Tap on offline mode in the Themes tab.
4. You can see the list of all offline themes that already exist on your phone.
5. Move to the bottom and click on Import.
6. Locate the downloaded MIUI Theme and select it.
7. The downloaded theme will be installed and it will appear with other offline themes.
8. Choose the installed theme and click on "Apply".
Method 2:- Steps to install Third Party MIUI Themes with MIUI Theme Editor
1. Download MIUI Theme Editor from Play Store.
2. After its installation, launch it.
3. Click on Browse and go to the downloaded MIUI Theme and select it and then click on the Start.
4. Tap Next and check the Edit file name or path.
5. After checking the Edit file name or path click on the Finish.
6. Click on Install.
Avengers Dark Edition Theme for MIUI 11:
---
RealmeUI Theme for MIUI 11
---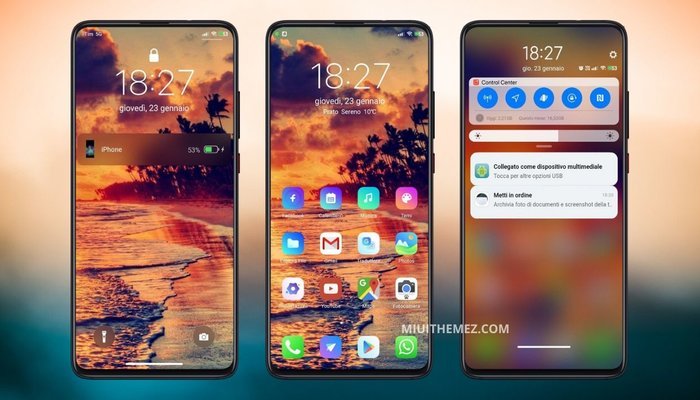 ---
---
Samsung Galaxy A30 Theme for MIUI 11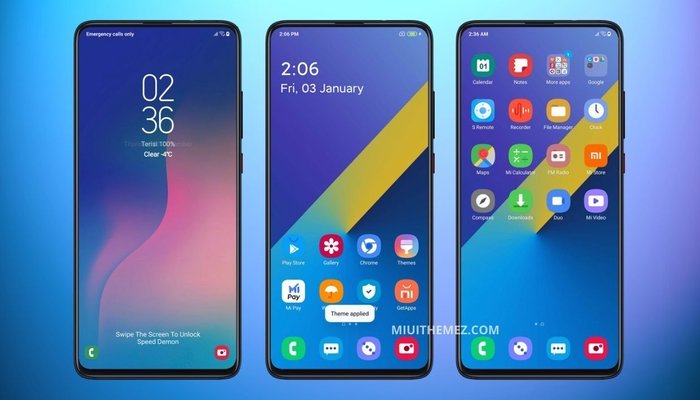 ---
Oneplus OxygenOS Never Settle Theme for MIUI 11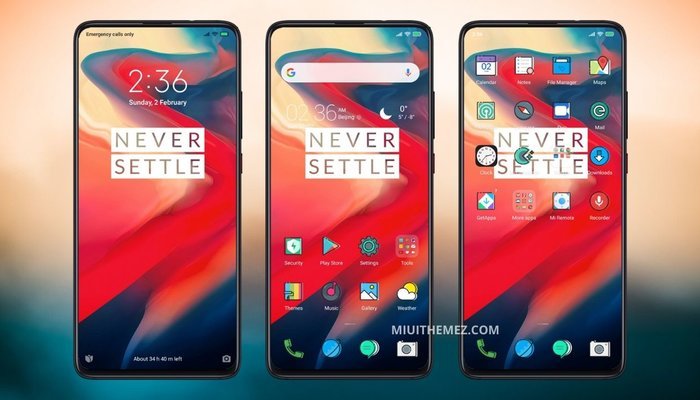 Best MIUI themes on Xiaomi Theme Store:
---
---
---
---
So, these are some of the best MIUI themes you can apply to your smartphone and make it look more beautiful and elegant than before. If you have any other best MIUI themes, do let us know in the comments section, we would love to include it in the above list.
Especial thanks to the Miuithemez.com.
---
---
---
UPDATE: March 14
Today, we are adding a few more simple and elegant looking MIUI themes with download links to download them below. Do check out these themes and let us know how it looks on your device.
---
---
---
You can download this theme from the themes app on your phone by searching it.