Manufacturer Asus is out with its new Zenbook 14 UX434IQ laptop and it seems to be a promising laptop for gaming. Equipped with interesting tools and specifications, the Zenbook 14 looks like a nice choice for gaming enthusiasts with a flexible bank account.
Zenbook 14 UX434IQ is yet to be launched, so we have gathered a list of some of its features to help you with your future purchase. Following we will be covering topics such as display, GPU, motherboard and processors etc.
Processor & Motherboard
Asus Zenbook 14 will come equipped with a Ryzen 5 4500U processor. It is a 6core processor with a clock speed of 2.38Ghz and a boost speed of 3.99Ghz. It is a fast processor and manage its own with other competitors in the market.
There will be another variant of Zenbook 14 available in the market sporting an AMD Ryzen 7 4700U processor. It will offer 16 threaded 8 cores with 8MB of L3 cache. It can go from 2GHz base clock speed to 4.1Ghz boost speed.
Zenbook 14 will run on a ASUSTek Computer Inc UX434IQ motherboard with an 8GB dual channel LPDDR4× 4266MHz RAM. The Ryzen 7 model will come with a 16GB LPDDR4× 3200MHz RAM.
Graphics Processing Unit
The GPU on this laptop will showcase a MX350 2GB GDDR6 by Nvidia. It is similar to the GTX 1050 2GB variant in power. It is optimum for fast rendering acceleration at low cost.
Display
Zenbook 14 will have a 14.0 inch 1920×1080p full HD display. It features a 144Hz refresh rate screen with Anti Glare IPS level panel. It will be a backlit type screen with FHD LED backlight. The 144Hz refresh rate is an exciting features which will massively affect your performance while gaming.
Storage
This laptop will come equipped with with a 1Tb Samsung PM981 NVMe Solid State Drive (SSD). The higher variant which will come with Ryzen 7 can be equipped with either a 512GB or a 1TB PCIe generation 3 SSD.
Connectivity
Asus Zenbook 14 UX434IQ will come with the following ports :
1× Audio Jack
2× Type A 3.2 Gen 1 USB
1× Type C 3.2 Gen 2 USB
1× Type A 2.0
1× RJ45 LAN jack
1× HDMI 2.0
1× HD 720p CMOS VGA module
1× 2.5mm Headphone jack &
1 × AC adapter plug
Wireless connectivity includes Bluetooth 5.0 and a Gigabit Ethernet LAN.
Zenbook 14 Body
The physical dimensions of Zenbook 14 are Height : 0.63 inches × Width : 12.56 inches × Depth : 7.83 inches. The laptop body will weigh 1.17kg or if you're on the other side of the world, 2.6lbs.
You can choose between two colour variant, Royal Blue and Icicle Silver. Asus Zenbook will come with a 1 year Warranty.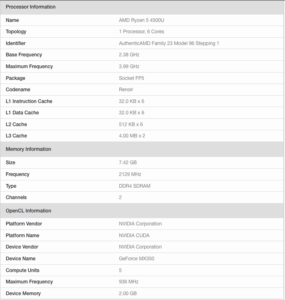 Conclusion
Overall Asus Zenbook 14 UX434IQ promises to be a powerful laptop. It offers interesting features for both gaming and creative work such as video rendering. Asus hasn't revealed the price yet but we are sure it won't go too heavy on your pocket. You can refer to this link for further information on the specifications.