With the remastered version of Ark Survival Evolved stirring up for release, players are getting the most out of ASE right now. The upcoming update is said to bring in the power of Unreal Engine 5, which is going to make the game look a lot prettier. In a nutshell, players are excited to know how their dinos will look when this new overhaul finally releases. Anyway, if you didn't already know, the Ceratosaurus was released in ASE as a part of a new update for the Ark Additions mod. Well, in this guide, we will take a look at this dino and, more specifically, share details on how to spawn it with the help of the spawn command. So, if that is what you have been looking for, you have landed on the right page.
Since you clicked on this article, we are assuming that you are aware of the Ark Additions Mod; after all, it is the mod whose part is the Ceratosaurus. This widely popular mod for Ark Survival Evolved adds various new creatures, items, and features to the game, enhancing the gameplay experience for players. Ceratosaurus is one of the new additions brought about by this mod. With that being said, let us see how to spawn this creature using spawn commands in the game. Keep reading to learn more.
Ark Survival Evolved Ceratosaurus Spawn Command & More Details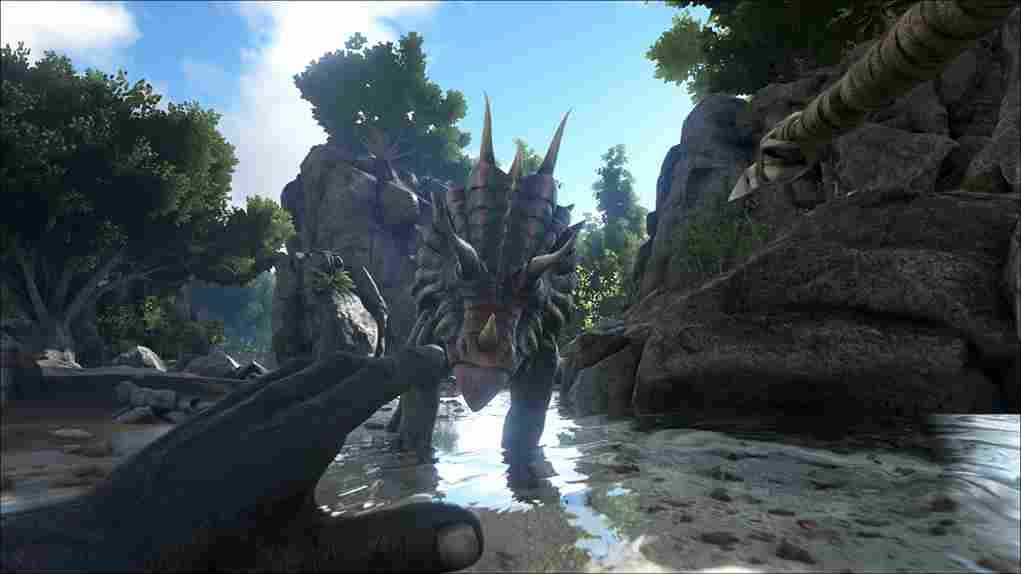 If you want to go down the traditional route of finding the dino, capturing it, and going through trials and tribulations to tame it, you are welcome to do so. We have a guide on the same, which you can refer to by clicking on this link. Now, if all of that is too much work for you, the option of spawning the dino in front of you is always there. So, how do you do it using spawn commands? Well, to begin with, you will have to enter a cheat code into the admin command console of the game. If that sounds too much, relax; we have outlined the steps below to make it easy for our readers.
Using the Admin Command Console
Now, if you want to use the spawn codes in ASE, you will need to have access to the Admin command console first. It sounds fancy, but it is the bougie way of saying you need to open up a box where you can input the spawn command. To open the admin command console, well, cheat box, let us say, press Tab (on PC), LB+RB+X+Y (on Xbox controller), and R1+L1+Square+Triangle (on PS controller). Now, type in the following command:
cheat spawndino "Blueprint'/Game/Mods/Additions_Pack/Ceratosaurus/Dinos/CeratosaurusAA_Character_BP.CeratosaurusAA_Character_BP'" 1 1 1 30
Type this, hit Enter, and voila, a Ceratosaurus will spawn right in front of you. Now, you can do whatever you want with it: try to tame it, kill it, or get killed; it does not matter because you can always spawn another one with this spawn command.
Well, that is all for this article. We hope all your doubts have been cleared about spawning a Ceratosaurus in Ark Survival Evolved. If you find this guide informative, make sure to visit DigiStatement regularly for all your gaming-related queries.