The most interesting and unique aspect of Ark Survival Evolved is its taming mechanics. The game's overworld is filled with all sorts of historic and prehistoric creatures. They may look terrifying (which they are), but with the right approach, you can tame them. But the fun does not just stop there; once you have tamed a beast, you can basically use its attributes and abilities to your advantage. And let's face it, who wouldn't want to ride a T-Rex and go on a rampage? Well, you can do so in the game after finding a T-Rex and taming it. Now, with the Fjordur DLC released in the game, a new creature was added. Since you are reading this post, you must have downloaded the DLC and want to tame this beast. Well, in this article, we will teach you how to do so.
Andrewsarchus, as you know, is a prehistoric creature that looks like a mix between a warthog and a sabertooth. To be honest, that description doesn't justify this unique-looking mammal. While they are omnivorous and look docile, they are extremely fast and deadly if you are not careful around them. Once you tame them, however, they can be of great use for carrying your items and traversing water bodies. The most interesting thing is the saddle for this beast, which has a minigun mounted on it to decimate your foes. That being said, keep reading to learn how to tame them.
ARK Survival Evolved Andrewsarchus Taming Guide: How to tame it?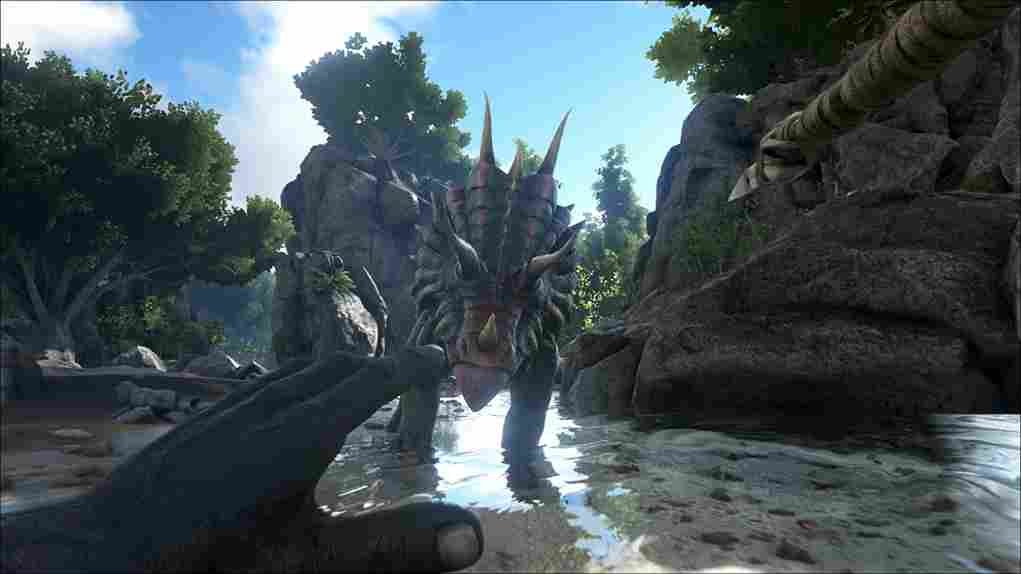 Well, there is just one thing you need before you attempt to tame an Andrewsarchus in Ark Survival Evolved, and that is honey, as the creature absolutely loves it. After acquiring honey, you need to find the creature. With an Andrewsarchus spotted, you will need to discreetly creep up behind it. Make sure it's an open area because the taming process will fail if the creature collides with a wall. If you are unable to get close to the creature, consider wearing a Ghillie suit and consuming Cactus Broth, and Bug Repellant. Anyway, throw some of that honey you have in front of the Andrewsarchus. If all goes right, it will not notice you and focus on eating the honey. This is your window to mount the beast. Just get up close and press the corresponding button to get yourself mounted.
This will trigger the second phase of the taming process. You will now have to fill up the taming gauge by pressing the arrows that prompt on your screen. It is a minigame that you need to play. If you did it correctly, the gauge will turn green, and you will have successfully tamed the beast. If, however, the gauge goes red, make sure to dismount the Andrewsarchus and try again. You might have to try it a few times before successfully taming it. Therefore, make sure to bring enough honey with you.
And there you have it; that's how you can tame an Andrewsarchus in Ark Survival Evolved. This won't be the end because a tamed Andrewsarchus will go wild again over time. You will have to tame it again if that happens. Anyway, that's it for this guide. For more guides and tutorials like this, stay tuned to Digistatement.
Read more,
ARK Survival Evolved Carcharodontosaurus taming guide: How to get it?