Apple is not a pioneer brand but has been successful in washing away the profit of all the other pioneer brands. Though the company stepped into the game of smartphones very late, as computers were their prime target, Apple has created become the symbol of power and premium range feel. Apple is currently the talk of the town for all the good reasons, be it for its new headphones or new earphones series.
Apple is all set to launch its new earphones certainly for use while sports or working out. The gadget launch is a collaboration with Powerbeats4. Before reading about the specs and details about the Apple Powerbeats 4 earphones, look at the render images leaked online.
Apple Powerbeats 4 Render Images-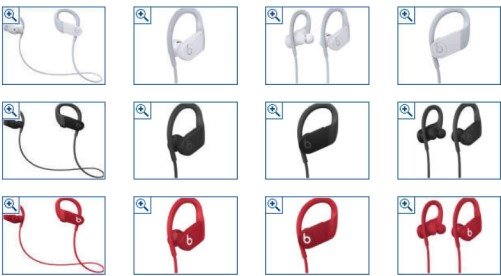 Apple Powerbeats 4 Features, Specifications-
The main reason for this crossover is because Powerbeats 4 will be using Apple's H1 chipset. This feature is the main highlight as the wireless earphones will support features like "Hey Siri" and "Announce messages with Siri".
A huge upgrade that the Powerbeats 4 will be equipped with is its battery life. These wireless gadgets will last over 15 hours after being fully charged. The previous version of Powerbeats hardly lasts for 10 – 12 hours. The earphones will likely be available in black, red and white colors.
The Apple Powerbeats 4 will be launched as a completely water-proof gadget. It is obvious to rock this feature as the very Earbuds that was made for everyday use portray water resistance. The sport Powerbeats is not just waterproof but will also be Bluetooth compatible with a range longer than other Apple Earbuds and Powerbeats earphones.
Apple Powerbeats 4 Price-
Apple Powerbeats 4 are not officially tagged with the exact cost but rumors state that these little gadgets will be priced at a massive $200 range.
Apple Powerbeats 4 Release Date-
Rumors have been hitting the web that the release date of the Powerbeats 4 will take place after the month of March 2020. But the official date will be announced shortly.
Note: We will update this article when we receive any news about Apple Powerbeats 4, so stay tuned. Also, share this article with all those who are waiting for this device.