Apple Music refers to a subscription-based music streaming service. The service offers access to around 70 million songs. Apple Music has been packed with various features. This includes offline listening in case if you are not connected. This combines all the music in one place, even if the songs are ripped from a CD. The service also provides live radio stations and integration with Siri so that you can control most of the things with voice commands. Apple Music was launched in 2015 after Apple acquired Beats Electronics in 2014.
Apple Music allows you to stream on-demand any track from the iTunes catalogue. You can access all your music in one place on all of your devices. The service provides recommendations on the basis of your interests. The service can be used for free for three months. There are three plans available for you. The individual plan has been priced at $9.99 per month. The family plan for up to six people has been priced at $14.99 per month. The last one is the University Student plan that has been priced at $4.99 per month.
There is an Apple One bundle. It can help you to save money if you subscribe to various Apple services. It lets you to subscribe to Apple Music with any one of the Apple One bundle tiers, Individual, Family and Premier. The Individual and Family plans are available in around 100 countries.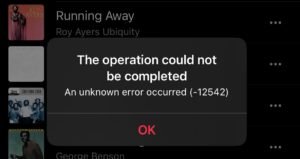 But Apple Music has also been a victim of certain error codes that raises different other issues. One specific error that has been most recently reported by users is the Error Code 12542. Users explained the error as a problem where some of the music is not played. When they try to play a specific song that was skipped by the service, the Error Code 12542 appears on screen. The error normally appears as 'The operation could not be completed. An unknown error occurred (-12542).
A few other users have also said that sometimes the error pops up in between when they are playing any track. Some have experienced the error while searching for their favorite tracks. Let me tell you that Apple has not yet officially confirmed anything on how to solve this issue and there is no permanent troubleshooting step available right now for this issue. At present, download the music into your iPhone instead of streaming it from the iMusic app. Also, you restart your phone and switch the networks. This should help you to fix the problem.