The new Apex Legends Battle Pass is dropping today, so here's a look at the new features, legend, and of course, rewards it brings with it!
What's in the update?
The Season 9: Legacy update is touted to be the biggest update to Apex Legends since release. We get a new legend in the Valkyrie, the usual brand new battle pass with 110 tiers, and get this- a new game mode! The "Arena" game mode is an all-new way to play Apex Legends. Players take on opponents in a round-based 3v3 battle set in fresh new maps and POIs from existing maps.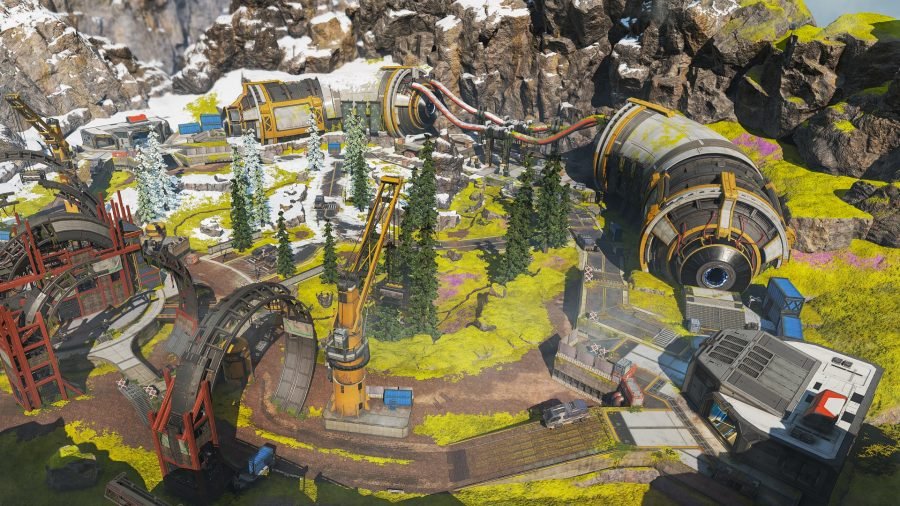 The new legend: Valkyrie
Kairi Imhara, who goes by Valkyrie, is the new legend coming to the Apex Legends. She is the daughter of the legendary Apex Predator pilot, Viper. Valkyrie sports a modified jetpack she can use to glide over and surprise enemies, and her ultimate ability can take her whole squad high into the sky to redeploy elsewhere! Watch her character trailer here.
Battle Pass Rewards
Finally, let's take a look at all of the rewards you'll get for completing the Apex Legends Battle Pass Season 9!
1 – Daruma Darter (Rare Octane Skin)
–  Way of the Serpent (Legendary Spitfire Skin)
–  Performance Artist (Rare Mirage Skin)
–  Battle Bouquet (Rare Bangalore Skin)
–  XP Boost
2 – Rare Apex Pack
3 – Apex Coins x100
4 – Good Job, Me (Epic Pathfinder Holo)
5 – Legendary Apex Pack
6 – Epic XP Boost
7 – Enflamed (Rare Longbow Skin)
8 – I Shot at the Commissioner Too (Rare Valkyrie Kill Quip)
9 – Born to Fly (Epic Valkyrie Holo)
10 – We Will Meet in Valhalla (Rare Bloodhound Quip)
11- Ghost in the Gas (Epic Caustic Frame)
12 – Crafting Materials x120
13 – Apex Coins x100
14 – Epic XP Boost
15 – Coin Flip (Rare Flatline Skin)
16 – Studied the Bladed (Epic Revenant Frame)
17 – Engineering, Patience and Ingenuity (Rare Wattson Kill Quip)
18 – No Cameras. No Fans. No Autographs. (Rare Load Screen)
19 – A Promise to Keep (Epic Horizon Holo)
20 – Crafting Materials x120
21 – Apex Credits x100
22 – Epic XP Boost
23 – Textile Precision (Rare G7 Scout Skin)
24 – I Used to Run With a Bad Crowd (Rare Gibraltar Kill Quip)
25 – Crafty Kistune (Legendary Rampart Skin)
26 – Take Flights (Rare R-99 Skin)
27 – Guiding Lantern (Epic Weapon Charm)
28 – Crafting Materials x120
29 – Apex Credits x100
30 – Epic XP Boost
31 – That's What You Get For Stealing (Rare Mirage Quip)
32 – High Speed Interstellar Travel Ain't Cheap (Rare Load Screen)
33 – Screamin' Speed (Epic Octane Frame)
34 – Autumn Wind (Rare Kraber Skin)
35 – Perfect Trajectory (Epic Rampart Frame)
36 – Crafting Materials x120
37 – Apex Credits x100
38 – Epic XP Boost
39 – "Hope" is Something You've Lost (Rare Wraith Kill Quip)
40 – Epic Apex Pack
41 – The Same Expression as my Customers (Pathfinder Kill Quip)
42 – Breezy (Rare Havoc Skin)
43 – Honor and Beauty (Epic Bangalore Frame)
44 – Rare Apex Pack
45 – Crafting Materials x120
46 – Epic XP Boost
47 – Call Your Next Witness (Rare Load Screen)
48 – Put up Your Tunes (Epic Fuse Holo)
49 – Little Friend (Epic Weapon Charm)
50 – Demon's Whisper (Legendary Wraith Skin)
51 – All I Saw Were Zeroes and Ones (Rare Crypto Kill Quip)
52 – Just Keep Swimming (Octane Skydive Emote)
53 – Crafting Materials x120
54 – Epic XP Boost
55 – Lavender Fields (Rare Devotion Skin)
56 – The Ghost of Viper (Rare Load Screen)
57 – Rare Apex Pack
58 – Kill the People Who Made me (Rare Revenant Kill Quip)
59 – Forest Guardian (Epic Bloodhound Frame)
60 – Crafting Materials x120
61 – Apex Credits x100
62 – Epic XP Boost
63 – I Take Out the Trash Myself (Rare Lifeline Kill Quip)
64 – Endless Libations (Epic Mirage Frame)
65 – Golden Waves (Rare R-301 Skin)
66 – Valkyrie (Epic Music Pack)
67 – Blisk Pace (Epic Weapon Charm)
68 – Crafting Materials x120
69 – Rare Apex Pack
70 – Epic XP Boost
71 – Branch Strategy (Rare L-Star Skin)
72 – Sorry, Mate. Boss May Be Watchin' (Rare Rampart Kill Quip)
73 – Unstable Footing (Epic Caustic Skydive Emote)
74 – Void Gate (Epic Wraith Frame)
75 – Cherry Dreams (Rare Spitfire Skin)
76 – A Mercenary Wife (Rare Load Screen)
77 – Crafting Materials x120
78 – This Isn't My First Science Fair (Rare Horizon Kill Quip)
79 – Iconic Aim (Rare Triple Take Skin)
80 – Scorch the Sky (Epic Valkyrie Frame)
81 – Temple Guardian (Rare Hemlock Skin)
82 – That's What You Show up With (Rare Bangalore Kill Quip)
83 – Lucky Tomcat (Epic Weapon Charm)
84 – You Remind Me of Myself (Rare Fuse Kill Quip)
85 – Apex Credits x100
86 – Fan Out (Rare Charge Rifle Skin)
87 – Kicked Your Ass Without Metal Legs (Rare Octane Kill Quip)
88 – Nothing I Can't Hack (Epic Crypto Holo)
89 – Bento Bot (Epic Pathfinder Frame)
90 – Double Agent (Epic Weapon Charm)
91 – You Had a Humble End (Rare Loba Kill Quip)
92 – Showing Off (Epic Valkyrie Skydive Emote)
93 – Apex Credits x100
94 – Delighted More in Those First Kills (Rare Caustic Kill Quip)
95 – Crafting Materials x120
96 – Apex Credits x100
97 – Rare Apex Pack
98 – Epic Apex Pack
99 – Blood Legacy (Epic Flatline Skin)
100 – Bound in Bone (Legendary Devotion Skin)
110 – Dragon's Spine (Legendary Devotion Skin)