It's the beginning week of July and already a lot has started to change in the world of Animal Crossing : New Horizons. Your island will soon be sprawling with a wide variety of fauna as it's migration season.
July marks the arrival and departure of a range of new fish, bugs and sea creatures. As part of the in-game quest, it becomes your job to "catch em' all". Catching these new creatures will help you progress through the game. Catch all the fish, bug and sea creatures to :
Complete all the museum exhibits
Fill the pages of your critterpedia. Catching these creatures will unlock their description in the book.
Unlock the DIV recipes for two golden tools!
In Animal Crossing New Horizons there are many varieties of fishes. You can catch a total of 80 different types of them. If you live in the northern hemisphere, 58 can seen and caught in July. Out of which, 5 new fishes will arrive and 1 will leave the island by the end of the month. In the southern hemisphere, 31 new fishes can be caught this month.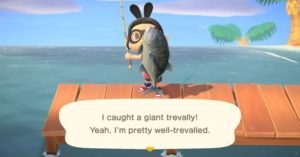 Similarly for bugs, the game offers 80 species of them. If you reside in the northern hemisphere you can expect to run into 51 new bugs. Out of this, 21 are new and 1 will be leaving by the end of July. In the southern hemisphere, 20 bugs can be caught. No new bugs will come or leave the island.
Today, a long list of all the bugs, fishes and sea creatures arriving and departing in July is released. The list was posted on the Animal Crossing New Horizons sub-reddit and it features the time schedule of these creatures specific to the Northern Hemisphere only. The list provided by user u/HuskerGirlKC
Thus, we hope with this information you will be able to catch all the new fishes and bugs. Now you are finally able to complete all the critterpedia entries and museum exhibits.