So you want some beautiful hybrid flowers in your garden with cross-pollination and give more variety to your island then read on. Here is a comprehensive guide on how to get hybrid flowers in Animal Crossing: New Horizons.
Preparation before Breeding
Go to Nook's cranny and buy the seeds you want in your garden. If the flowers you want aren't available at your island, go to another island and buy from there. There is always an option for everything in Animal Crossing.
Though you can use pre-existing flowers, the rare species don't give colour mutations with hybrids if they are pre-existing. So it's better to not use pre-existing flowers on your island, though you can easily dig em' up with a shovel.
Prepare a Breeding Space
A designated space for you little munchkins is necessary for their growth. You can keep track of which flowers to water and not let the growth out of control. During rains unwanted growth is a consequence, proper breeding space helps a lot with the cleanup.
How to Breed Flowers & Hybrid Flowers
Plant flower seeds
Wait for flowers to bloom
Water those flowers
Check if new flowers have appeared on the next day
Repeat steps 3~4 until you get the colour you want
Patterns to Put Flowers in
3×3 Area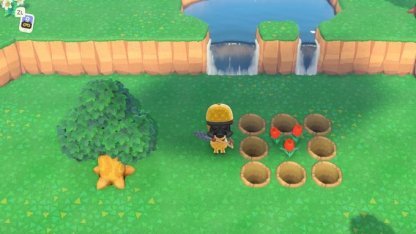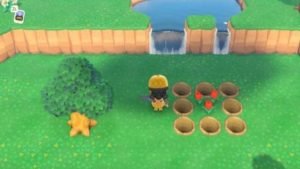 Flowers need space between them for them to grow properly. The best practice is to put them in a 3×3 grid.
Cross Shape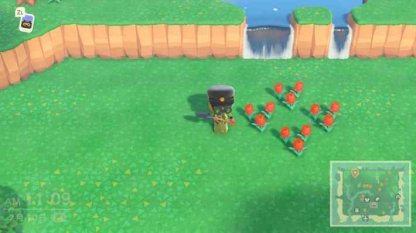 Almost the best way to pollinate is by putting the flowers in a cross-like plus shape (d-pad of a controller). Same colour flowers work best in this way.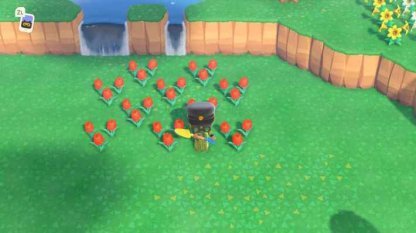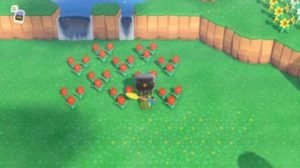 X pattern
If you have a rare flower make a cross with the rare flower in the centre. With it the rare flower will cross-pollinate with maximum 4 flowers at once.
If you want to expand on this pattern, you make an alternating sequence like the picture above.
There is no certain guarantee that any of these methods work but you need to water them every day and keep trying.
Have fun!