Among Us is a popular game developed by InnerSloth LLC. The game rose to popularity mainly after the first stage of the global pandemic. Players have also downloaded the game on emulators to enjoy it on PCs. Unfortunately, some have faced that the game crashes or refuses to open in the emulator environment. This article mainly focuses on Among Us not working on Bluestacks.
Tips to fix Among Us
Bluestacks is an emulator which is used by numerous people. All you have to do to get the game is go to the Google Play store in the software and download the game. Now, coming back to the issue, you can try out the following methods and check if that helps.
Update the game – Go to the Play store on Bluestacks. Under Apps and games, locate Among Us. If you see the Update button beside the game, click on it to update to the latest version of the game.
Update Bluestacks – Some players have reported that updating Bluestacks have solved the issue. Updating the emulator is very easy. Launch the Bluestacks app. Now, click on the gear icon that is on the bottom-left corner of your screen. Go to the About tab and click on Check for Updates. This will notify you if any update is available. You can click on the Update button (if available) to update the current version of your emulator.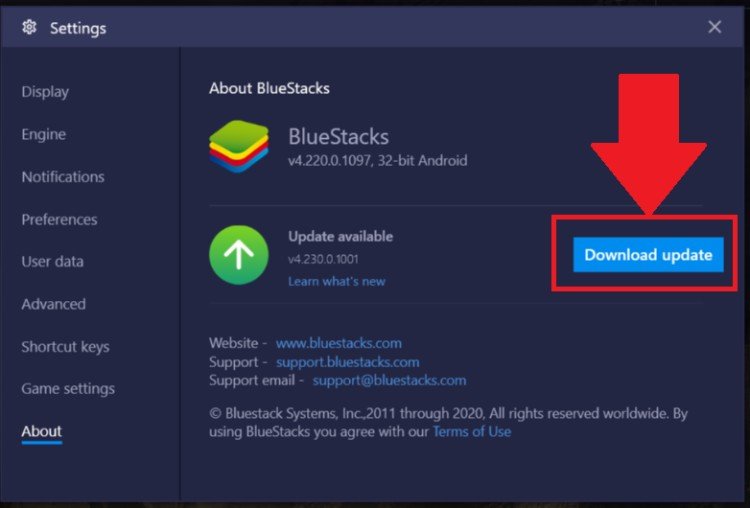 Players have also fixed the Among Us not working issue on Bluestacks by changing the Settings. Among Us is compatible with a wide range of specifications. The game is not at all graphic demanding and hence can run smoothly. Go to the settings on your Bluestacks and tally the persisting settings with the following list.
Engine Tab:
Graphics Engine: Performance
Graphics Renderer: OpenGL
GPU Settings: Prefer dedicated graphics (if possible)
ASTC: Hardware decoding (if possible)
CPU: 4 Cores
RAM: 4 GB
ABI: Auto
Advanced Tab:
Device Profile: One Plus 3T
Hopefully, the issue no longer persists. You can also post your issue in the Reddit forum of Bluestacks. A piece of good news is on the way. Bluestacks is soon going to launch the final version of Bluestacks 5. Go and enjoy the game with your friends.