In order to break down the cycle of COVID-19, Prime minster of India Narendra Modi addressed the Nation second time and announced 21 days of Nation-wide lockdown. The Lockdown is effective from 12 AM (March 25) to April 15. It is a major decision, but the PM Modi said it the essential step considering the severity of the situation. As of now, the total number of coronavirus cases in India has surpassed 500.
"If we don't handle these 21 days well, then our country, your family will go backward by 21 years," Modi added underscoring the importance of self-isolation and social distancing.
Well, Due to the lockdown, people are panicking and rushing to their nearest grocery shops and stores to purchase daily use commodities. People are also looking to order groceries online, but major online delivery services like Bigbasket, Grofers, etc. are also not accepting and delivering orders.
Bigbasket app reads the following :
Dear Customer, we are not operational due to restrictions imposed by local authorities on the movement of goods in spite of clear guidelines provided by central authorities to enable essential services. We are working with the authorities to be back soon.
In a mail to customers, Grofers noted; "Our delivery team has been held up at checkpoints and some of our warehouses have been locked by local authorities, as the situation due to COVID-19 remains very uncertain."
Bigbasket was accepting and delivering the order till March 22, and now it seems its services will be shut for 21 days until further notice. A user shared a screenshot of his BigBasket cart in which we can see the delivery date of orders is set to April 15, while orders of some users are canceled. Check out some of the tweets by netizens below:
@bigbasket_com is down since morning.@Grofers has changed delivery date to 14th April , 2020 to start with for an order placed today.@smritiirani @irvpaswan @AmitShah @narendramodi ji

[This will create panic. Food and other essentials should be allowed to get delivered.] pic.twitter.com/1yWfE25c7H

— आशुतोष 🐼 🇮🇳 (@_Ashu7) March 24, 2020
After such messages @bigbasket_com you don't say 'thank you' you show your apologies rude! Disrespectful! #COVIDIDIOTS on first hand you should not have confirmed the order. #bigbasket and sending 150 in wallet is not compensating! People don't need money they need stuff! pic.twitter.com/IXKfDAhWXD

— Supriya Lal (@SonaSitaara) March 24, 2020
Well, currently, the website of Bigbasket is down, users are complaining on twitter. However, as per the Bigbasket team, the website is down for maintenance and will be live soon.
https://twitter.com/yasho_hazra/status/1242488918101987329
And the BigBasket app crashes again!! https://t.co/1QlRk7zDVT

— Mugdha Variyar (@MugdhaCNBCTV18) March 24, 2020
Official Update :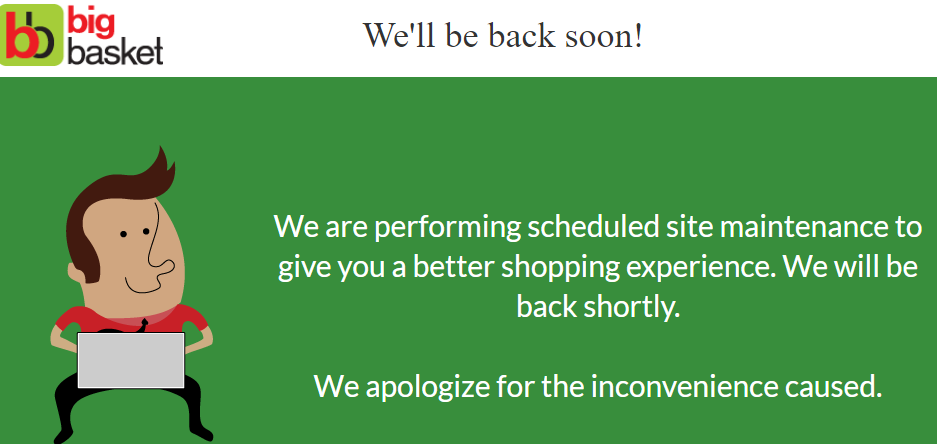 Rest assured, we're keeping a close eye on all related developments, and will update the story with relevant info as and when we come across any.