Trucking simulator fans can rejoice once again, as this time they get to experience the beauty and harshness of the Alaskan winter. Developed by Road Studio, Alaskan Road Truckers was finally released on October 18, 2023, for PC. And now that it's finally here, both casual and die-hard fans of the game are eagerly looking forward to the upcoming content drops. Something that can be found by taking a look at the game's roadmap.
Roadmaps are quite helpful for both developers and players. For the former, it helps them keep their focus on a promised update and generate hype, while for the latter, it tempers overblown expectations and gets to the fact that the dev teams fully intend to support a game. So, what about Alaskan Road Truckers? Well, Road Studio has indeed released a roadmap for their debut title, and the October part of it is all but done. So, what has Road Studio promised to deliver in the upcoming months? Continue reading to find out!
Alaskan Road Truckers Roadmap for 2023 & 2024: Here's everything you need to know
Road Studio released the Post-Launch Roadmap on October 17, 2023, one day before the official release of their debut title. This particular roadmap stretches far up to February 2024. And so, here's each month's roadmap details, starting November 2023:
November [2023]
Two major things will be coming out next month.
Skin & Decal Pack
Trucking Legend Mode
Well, the first one speaks for itself. Players will be getting new skins and decals for their trucks so that they can go trucking in style. The Trucking Legend Mode is a new game mode in which you will be starting the game in the cold Alaskan winter. Couple that with only a few resources for your survival, and expect a major challenge ahead in this mode.
December [2023]
Since it's the month of Christmas, you will be getting:
Christmas update
Ice Road Expansion
As you might have already guessed, December will be the month in which players will be getting the first major update for the game. The Ice Road Expansion is set to introduce a bunch of new roads and missions into the game. And well, there's also a Christmas update, the contents of which are only known to developers for now.
January [2024]
Coming next year, players can expect the following content:
Internal Cab Customization
Expanded Country Roads Network
The November 2023 update will introduce customization for your truck's exterior, and in January 2024, the game will drop customization for your truck's interior. Additionally, dirt tracks will also be expanded, and towns will be interconnected.
February [2024]
As for the last month of the roadmap, there will be:
The Trucker Life Update
New Side Quests
The survival system will be expanded upon with the Trucker Life update. New status effects, like diseases and getting ill, will be added to the game, and well, a bunch of new side quests will be included.
Road Studio has further stated that more content will be developed and added to Alaskan Road Truckers beyond February 2024, so it is clear that the developers plan to support the game for a long time.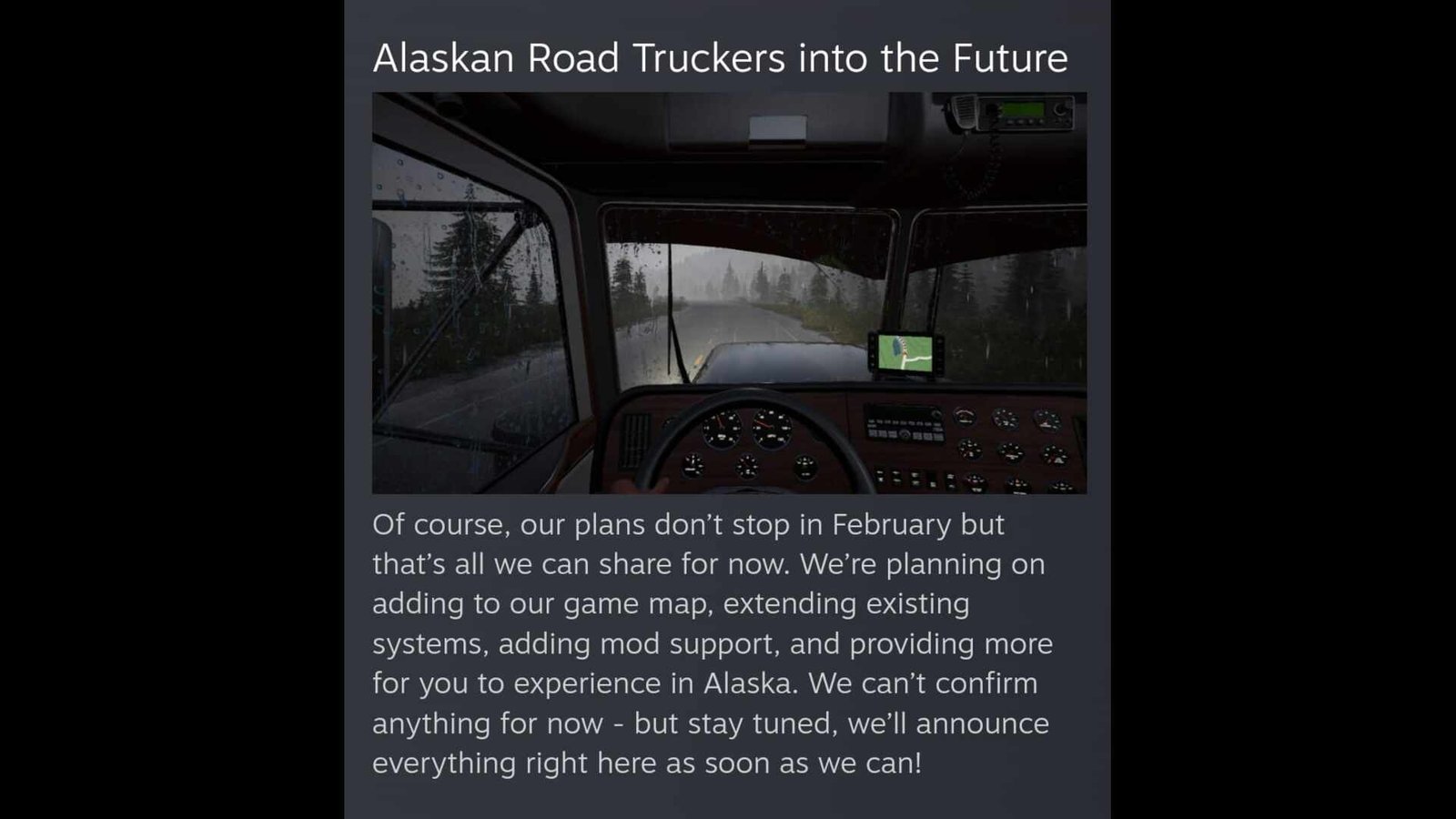 Now that you have sufficient knowledge of the game's roadmap for 2023-2024, have a look at the cruise control feature in Alaskan Road Truckers. And if you want more updates and information on the game, keep following DigiStatement. Also read:  Alaskan Road Truckers Logitech G29 Steering Wheel Not Working Issue: Is there any fix yet?