In this situation of a pandemic where we have been asked to stay at home, if you are looking for something for entertainment purposes, then the best option to go for now is FuboTV. The service focuses on channels that distribute live sports like NFL, MLB, NBA, NHL, MLS, and international soccer along with news, network television series, and movies. FuboTV was launched on 1st January 2015 as a soccer streaming service. It later changed into an all-sports service in 2017.
There are different service options with various channel lineups. The first and main one here is the base package. This one has 100 channels and add-on packages like Extra, Sports Plus, Latino Plus, and Portugues Plus. The company says that it ended 2020 with around 548,000 paid subscribers. There were 92,800 additions in the fourth quarter of 2020. The company also claimed that it exceeded $100 million in quarterly revenue for the first time.
FuboTV has launched features like Cloud DVR storage, pausing and unpausing live streams and lookback of previously aired content for 72 hours. It offers two simultaneous streams as a part of its basic package.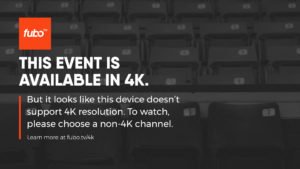 Most of us have a habit of watching videos in the best of best quality we can find. This includes 4K. But recently users of FuboTV have complained that they are not able to watch 4K channels on their devices. A user said that he is able to see the 4K channels on his list. But unfortunately, he is not able to watch them. He said that the channel is taking more time to load and eventually he is not able to play anything on his device. Some users said that the channel keeps on loading for hours and doesn't progress any further.
Those users who were somehow able to play the 4K channels said that there were certain streaming issues. Some have complained about the streaming quality saying that it is not up to the mark. A few others said that the app exited by itself when they were watching a 4K channel. In case if you are facing a similar issue, there are a few things you can try to fix the issue by yourself –
Ensure that your streaming devices support 4K.
Update your FuboTV to the latest version if you are using an outdated one.
Your minimum internet speed should be at least 25 MB per second.
You must use an HDMI 2.0/HDCP 2.2 compatible cables.
Your display or TV should be compatible with HDR10.
Remember that FuboTV 4K is now limited to certain events.