Note we are updating this post continuously. The new updates are being added at the bottom. 
---
If you are trying to access YouTube TV services or apps and they are not working for you. Fret not, you are not alone as many YouTube TV users are also facing the same issue.
Many YouTube TV users have taken the route of Twitter to express their concerns regarding the ongoing outage & issues. Have a look at some of the complaints down below.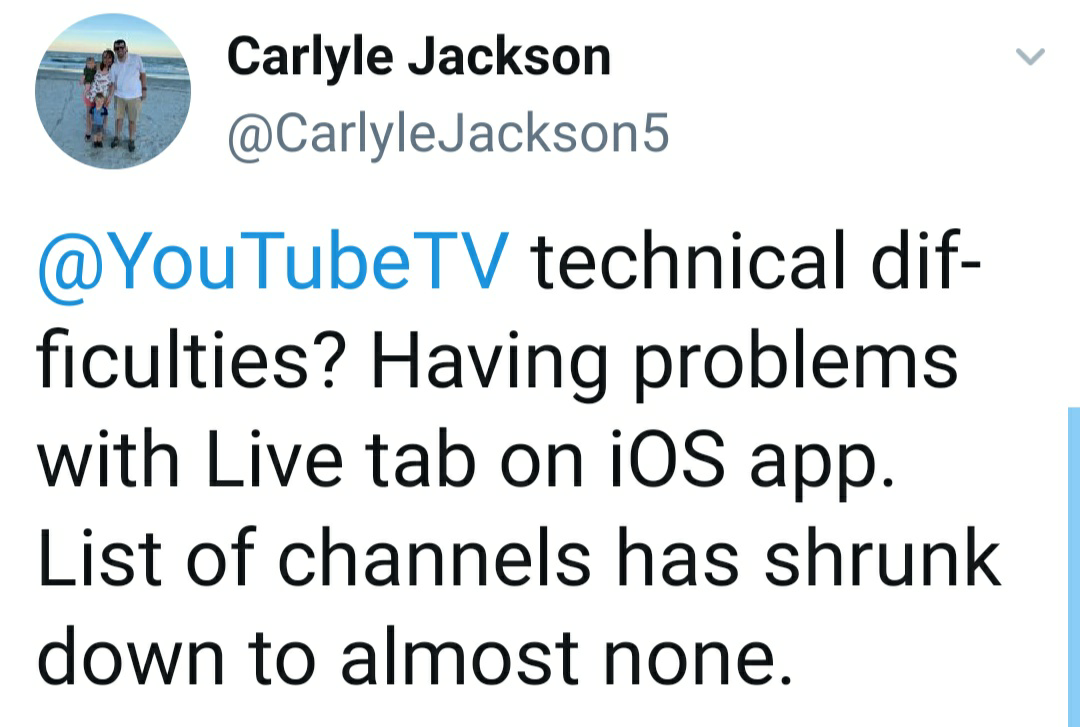 An outage tracking website, Down Detector also confirms that YouTube TV is indeed going through some glitch & outage in several locations. Have a look at the outage map down below.
So far, there is no official response from YouTube TV officials. But we certainly hope, their team is looking to resolve the issues at the earliest.
Rest assured, we are keeping a close tab on all the developments regarding this issue. Whenever any update or fix arrives for the same, we will update the column.
---
Update 1 ( November 6)
For everyone who was experiencing issues with YouTube TV – the issue has been fixed! Appreciate your patience while our teams were working on this.
---
UPDATE : [November 11]
some users are again facing problems with Youtube TV servers. Check out some of the tweets by netizens:
@YouTubeTV having some major issues with NBC Sunday Night football rn.

— Prash Ramani (@Prashr12) November 11, 2019
It's not my tv. I tried it on my computer too. I use @YouTubeTV maybe the issue is them. Because it's not working on my tv or computer.

— Sheryl with a "S" (@SherylPoll) November 11, 2019
@XboxSupport Can't sign in on my xBox One X…. That means I can't watch YouTubeTV! Please help Error Code 0xCFFFF82B. Tried Restart, Hard Start, checked network…. Think problem is on your side!

— John Justice (@EyewearMan) November 10, 2019