The Chinese multinational company Xiaomi has emerged out to be successful brand in the smartphone market and is popularly known for launching high-end mid-range smartphones. With its self-developed smartphone chip capabilities, the company has contributed a lot in field of innovation and technology.
It seems like some of the Xiaomi users are experiencing an unusual bug while using the MI device and specially when working on Google Chrome.  A few of them took on Reddit to share the details of the bug troubling them.
A "mjmilian" reddit user, who is also an owner of Mi 9 SE has raised the issue on the Xiaomi subreddit & it states the following – "Colours on my device keeps switching automatically between saturated and unsaturated.
Have a look at the post down below: –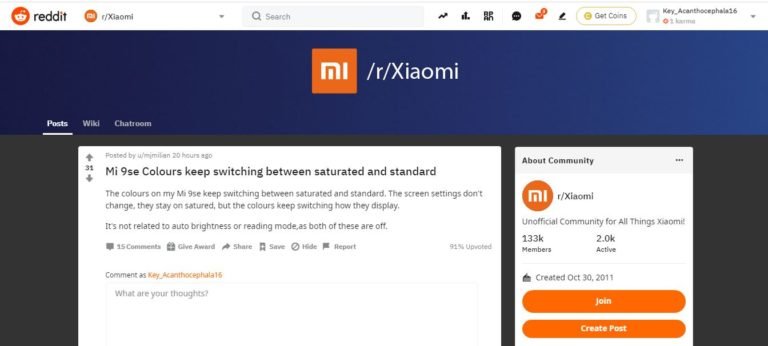 He confirmed that even if settings are fixed at saturated, the colours still keep on switching. The bug is not related to reading mode or auto-brightness as both of these are off as confirmed by the user.
Several other users has also commented on the post talking about similar kind of issue on their devices. Owners of POCO X3, MI 8 are also experiencing this bug when they are trying to access Google Chrome. There seems to be an issue with Google Chrome because some users are facing the issue even on their OnePlus and Samsung devices.
A user gasparthehaunter commented on the post explaining the issue that Apps can request to be displayed at a "standard" colour range and users seem to have enabled this feature. As a result, they are experiencing the automatic switching of colours. We are not very sure if it is the solution to the bug but we recommend you to try it once and see if it works for you or not.

Till now there is no any official wording from the company's side regarding the bug. We will keep you updated with related posts and content. Do share this article to those who might find it helpful.