Well, it's almost a year now since the release of Android 10. We might as well get to see the upcoming Android 11 release very soon. Almost every device these days comes with Android 10 out of the box. All the OEMs have also rolled out Android 10 updates to many of its earlier devices. While most of the devices have received the update and are running Android Q some are yet to receive it. The same isn't the case with many other devices. While some devices won't even receive the updates, others have received faulty updates with tons of bugs.
Talking about a buggy Android 10 update, the Xiaomi Mi A3 is the device that hits our mind at the very first instant. The Mi A3 runs on Android One and was launched back in July 2019. While Android One devices are known to receive Android updates sooner than other devices, the Mi A3 seems to be defying this fact. The Mi A3 Android 10 update has been in a chaotic scenario ever since the device started receiving the first-ever Android 10 update back in February.
Mi A3 Android 10 Update :
When it comes to the Android 10 update for the Mi A3, Xiaomi has been in a huge turmoil. Well, users reported tons of bugs in the first update which Xiaomi rolled out in February. Within a few days, after the update was rolled out, Xiaomi pulled back the update. Users were not at all satisfied with Xiaomi. After a few days, the Mi A3 started receiving an Android 10 Beta update to ensure that users would finally get a stable update after analyzing all the bugs.
Xiaomi then rolled out two subsequent updates based on Android 10 to the Mi A3. But, only to the dissatisfaction of users, these updates were also filled with bugs and none of them were been fixed. The last update which the device received is the Android 10 update with the March security patch.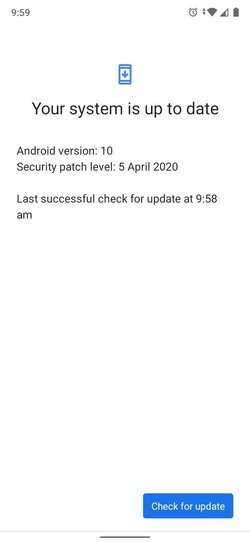 Xiaomi is now finally rolling out the Android 10 update with the latest April security patch to the Mi A3. Many users are receiving the OTA update in many regions globally. The update brings with it the latest April security patch and some new Android 10 features to the device. Some new major changes that the update brings is a brand new dark theme, new navigation gestures, and others.
Mi A3 Update Changelog:

Device updated to Android 10
Security Patch updated to latest April 2020
New Dark Theme
All New Navigation Gestures
Privacy controls
The OTA update is around 1.33 GB in size and is currently rolling out globally in many regions.
So, is this the stable and bugless Android 10 update? Is this finally the update for Mi A3 users who have been waiting for? Well, these are some of the most important questions that arise. Mi A3 users have been eagerly looking out for the answers to these questions.
You might not find it to be great but seems like this is the bitter truth. Well, Xiaomi has yet again disappointed its users. Minutes after this latest update rolled out, some users already started facing issues and bugs after updating their Mi A3 units. Here is what a user tweeted:
Seems like even the latest update has not fixed those bugs which have been present since the first update. This is by far the most humiliating thing that ever happened to Xiaomi when it comes to pushing updates. Even after rolling out a couple of updates, Xiaomi has not been able to fix the bugs. This is really embarrassing for Xiaomi. Mi A3 users are utterly disappointed by Xiaomi.
Will, there finally be a stable and bugless update for the Mi A3? Will the further updates bring more bugs? Or, Will Xiaomi even roll out another update? What's even more of an interesting question is: Will Xiaomi also pull back this update? Well, to know the answers to all these questions you have to wait and see for yourselves what all Xiaomi brings with its upcoming updates.
Stay tuned for further updates on Mi A3 Android 10 Update. Also, share this article with all those Mi A3 users who have been waiting for the stable Android 10 update.
---
UPDATE :1
The details of the update are also announced on the Mi forum officially, Check out below the official statement:
Hello, Mi Fans!
We're thrilled to announce that the Android 10 based new Global Stable ROM for Mi A3, V11.0.11.0 QFQMIXM is out now. It'll be pushed out to the users via OTA, in batches!!
---