The Chinese smartphone manufacturer Xiaomi may soon release the Mi 10 smartphone. The leaks and rumors are spreading over the internet for quite some time now. In a fresh set of leaks, live photos of the Mi 10 has been surfaced online revealing its design and other features.
According to leaked images, the Mi 10 will have a curved display on the sides with thin bezels and a selfie camera punched in the upper left corner. On the screen showing the smartphone settings menu, you can see the firmware version – MIUI 11.0.2.
On the rear panel, four vertically arranged camera sensors can be seen, the specifications of which have not yet been confirmed. However, falling in line with the earlier leaks Mi 10 will be equipped with quad-cameras of 64 Mp, 12 Megapixel, 8 Mp and 2 megapixels. As you can see in the image below, LED light is placed out of the arrangement of the vertical cameras.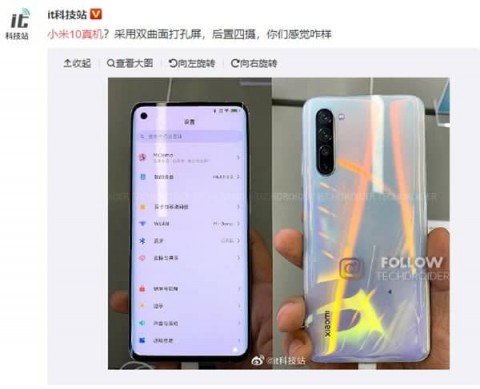 According to previous leaks, the device will be powered with the Qualcomm Snapdragon 865 processor coupled with 12 GB of RAM. The smartphone will be fueled with a 4,500 mAh battery.
The exact date of the launch and price of Xiaomi Mi10 by the manufacturer has not yet been announced. However as per some media sources, Xiaomi Mi 10 may be announced in mid-February, and the specific time may be between February 19 and February 25.
Rest assured, we will be updating you with the fresh leaks and other announcements if any. So stay tuned.