Facebook-owned Whatsapp is the most popular messenger app in the world, with more than 2 billion worldwide users. The easy-to-use user interface, ability to support all types of media files, and support for voice and video calls are some of the reasons why most of the netizens are using it.
As you all know, a majority of the world's population is on lockdown due to the ongoing Covid-19 pandemic. And people are heavily dependent on internet-based mediums to check out their loved ones. One of the most popular and most used media is video call. Several platforms, including Whatsapp, provide the video call service to the users, but Whatsapp supports group video call for maximum, four members at a time.
This limitation made Whatsapp users switch to new platforms like Zoom, which supports video calls for 10+ members at the same time. And now, Whatsapp, considering the demand of its users, finally brings the new update, which supports voice and video call for up to 8 members at the same time.
In our previous report, we mentioned that the feature was in beta testing for Android and iOS. Well, the update has finally arrived for the iOS version, whereas Android users still need to rely on other platforms for group video calls. The new update for iOS carries version 2.20.50. And it brings the most demanded feature, that is, support for more participants in voice and video calls.
Check out the changelog below.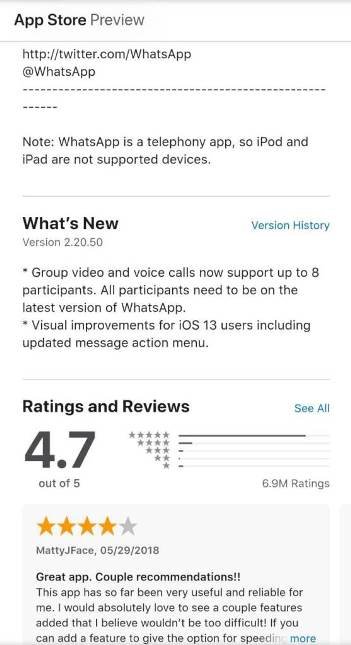 Head to the app store, search Whatsapp and hit Update to get the latest version of Whastapp.