Vape Royalty is the one-stop online vape shop made by vape enthusiasts, for vape enthusiasts. They offer an industry-leading selection of vaporizers, e-liquids, and accessories. The site prides itself on providing 100% genuine products at the lowest prices. They cater to every type of vapor and carry everything vaping-related like bling vape pens, herb, wax, oil vape pens, vv box mods, sub-ohm tanks, mod batteries, mod battery chargers along with premium e-juice.
The goal of Vape Royalty as an online e-cig store is to provide a huge range of vape products and to be a place where their customers can search for the most well-known e-cigarette brands and vaping products. They work closely with the vape industry's hottest e-cigarette manufacturers and purchase in high volume. In return, they receive all of the latest vape gear before anyone else and are able to provide high-quality e-cig products first to their customers and at an affordable price.
The site promises never to drop-ship any of their vape products since their orders are discretely packaged and shipped directly from their warehouse in Dallas, Texas. They have a knowledgeable customer service department that will offer you help and suggestions.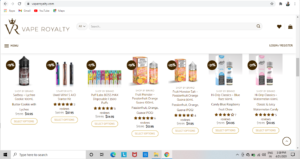 Now while purchasing, you might be worried about the shipping process of the website. Let me tell you that most of the orders are shipped within one business day of purchase. This includes five days of the week, i.e. Monday to Friday. This does not include federal holidays. You can also check the status of your order and view the tracking any time by logging in to the Vape Royalty account. Vape Royalty ships within the Domestic United States and they do not ship internationally.
There are some states that have specific laws regarding the sale and shipment of their products. This includes New York, South Dakota, Utah, Vermont, San Francisco, Maine, and Chicago. When your order is shipped, the site will send you an email. Most of the orders arrive within 1 to 5 business days of the order shipping. This does not include Federal Holidays. The transit time is dependent on the shipping method you choose and your location.