UBank app is a banking app that can be easily accessed from anywhere. The app has a system of fast and secure login and you can easily access your accounts in just a few minutes and also enable Touch ID, Face ID and also set a 4-digit PIN. The app has a very simple and straightforward interface that lets you to quickly see your accounts and view the last 500 transactions and the amount of interest that you have earned in a year. The app has a facility through which you can easily move your money around from one account to another for paying bills through BPAY and transfer money to someone else's account.
If you urgently need cash, you can easily locate all the nearby NAB ATMs and search it within any suburb or street across Australia. The UBank app is perfect for mobile payments and you can turn your compatible Apple or Android device into a Visa Debit card so that you can make Visa Tap for making purchases from your USpend account without the need of opening your wallet. The app is simple and easy to use and you can keep your savings goal on track by checking exactly how much you have spent in one day. The UBank app is available for phone and tablet and for iOS as well as Android.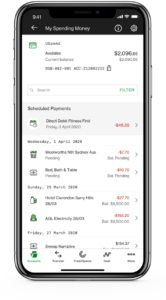 Overall, the UBank app has all the features that must be added in every banking app. But on the other hand, the app has been facing some problems because of which it has been criticized by many users. One major issue has been reported by users where they said that the app is not working at all. This is not just about the launching of the app in any phone but also a lot of internal features of the phone are not working properly.
Users said that the Android app login for UBank app is not working but the web login has been working fine. Some iPhone users said that the money transfer feature is not working in their devices. A user said that he tried to reset the mobile app PIN since he was blocked for logging in with incorrect PIN for three times but the PIN reset feature through the app was also not working. Some users have also reported that the app crashes when they launch it or when they try to log in. A user said that when he launched the app, it showed that his internet connection was not working although he had a fast and stable internet connection. If you are also experiencing the same type of problems in the UBank app, you can follow these steps to fix it by yourself –
Try to remove and reinstall the app.
Quit the app, switch off the device you are using, restart it and check if the issue still exists.
Open the app on another device, log in with the same account and see if you face the same issue in there.
Clear the data of the app in your phone settings and relaunch it.