There was a time when rooting was seen as a very complicated process, well it was. But in the recent years, it has become a very simple process. Now, there are apps which allow users to root their device with just one tap without connecting it to any computer. Towelroot, is one of these one-click rooting apps.
Towelroot allows the user to root his/her device with the press of a single button. It is one of the easiest apps to use for gaining SU priveleges/root. Rooting your phone gives you access to the root directory of your phone & grants you SU (SuperUser) access.
There are many advantages of a rooted device. You can customise your boot logo and boot animation, optimise RAM and CPU usage and much more. But there are some things to keep in mind while rooting your device. Rooting gives you access to all the directories of your phone, which might become a very big issue if a malicious app gets downloaded on your phone. You could also lose your phone's warranty after rooting your phone.
As for reliability of the Towelroot app, it was created by Geohot. He is a big deal in the jailbreaking business. Geohot, performed a jailbreak on the Playstation 3 and iPhones. He's now working for Google to help them find security problems in online services and apps.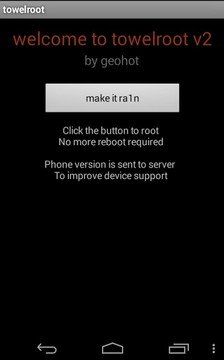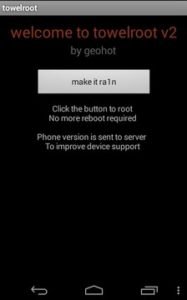 Towelroot's latest version 3.0 is now available to download. You can download the app from the link below.
Here's how you can download and use Towelroot –
1. Download the APK file from the link below.
2. For the installation process to complete, you may need to turn on installation from unknown sources.
3. After installation, open the Towelroot app and press on 'Make It Rain'.
4. If your device is supported, it will reboot rooted automatically.
Software Details – 
Name – Towelroot
Version – 3.0
Download link – Click Here