The Riftbreaker is a new genre mixing hack & slash action RPG, base building game. The game comes from the developer studio, EXOR Studios. The game is available on various platforms such as Xbox Series X/S, Windows PC, and PlayStation 5. Likewise, the game is also available on Xbox Game Pass as a day one release.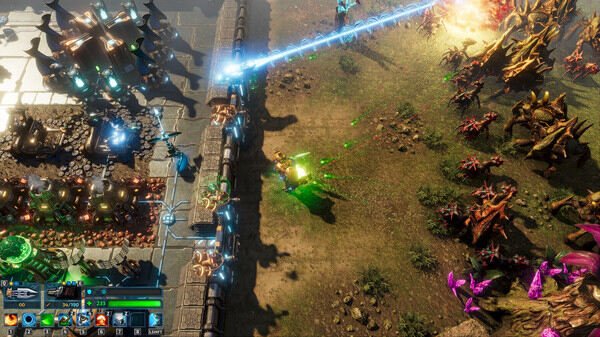 What is the Orbital Scanner & Why it is important?
The orbital scanner in The Riftbreaker costs tons of resources and also requires a massive amount of space. Likewise, players also have to maintain and save up tons of energy before beginning construction. Consequently, the construction and building of the technology consume a lot of energy to the amount of -500/sec.
However, the building or construction cost is worth it in the grand scheme of things because the orbital scanner is one of the most useful devices. It scans the whole planet to detect valuable resources, artifacts, and other species. Likewise, the device also allows players to rift jump to a particular location on different planets. Therefore, the construction of the orbital scanner is necessary for the unlocking of the Geoscanner.
How to Unlock a Geoscanner for Free
The first and initial step is to conduct research. Therefore, you have to construct a communication hub.

You have to level up your headquarters to level 2.

Next, you can find the orbital scanning technology on the 3rd row and the last column of the base and building technology.

Then you have to complete the orbital scanning technology in the communication hub.

After completion of the orbital scanning technology, you need to complete the cobalt handling technology. This can be found on the 3rd row and 7th column with a drill icon.

Finally, the Geoscanner will be unlocked after the completion of the cobalt handling technology which is a part of the alien research technology. Therefore, you can now mine cobalt using the Geoscanner.
How to Use a Geoscanner in Riftbreaker:
Once you have the Geoscanner, you can use the Geoscanner with the middle mouse button or LB+RB on a controller.

Next up, you can activate the Geoscanner by holding down the space bar or the "X" button on a controller.

You can check the scanner to find out your proximity to rare minerals. Follow the way in which the scanner is directing.

Once you're in close proximity to a rare mineral, the scanner will start beeping loudly and the location will be marked.

You can then go inside the yellow marked circle on the map and then use your Geoscanner to locate the rare mineral.
You can read more info on the game here