The journey to climb rank of TFBlade at the Korean server is really too arduous. TFBlade is currently performing a 14-day series of challenges to climb to the top of 1 Challenge at all LOL servers around the world, however, when stopping at the Korean server, the journey of this stream did not go smoothly.
The first is the boycott of the Korean gaming community, when every match has TFBlade in the team, the Korean members will automatically AFK, accept penalties to prevent this guy from winning the match. It was all because TFBlade blatantly criticized professional League players, typically Nuguri.
But it didn't stop there, last night, while streaming on Twitch, TFBlade received notice that his account at the Korean server was permanently banned. More importantly, this is the account provided by Riot Games , and during the try-hard process, TFBlade also showed no expression beyond the standard range of gamers.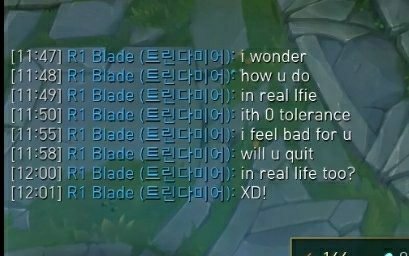 Learning about the cause of the punishment from the sky, TFBlade fell back when he discovered a post on the Korean social network forum, captured the image of the guy who was pushing his eyes up in a previous stream. This image has been taken by the Korean gaming community and became evidence of accusations of racial discrimination against Asians.
(referring to the Korean eyes of Korean people).
https://m.twitch.tv/videos/565845998
Immediately, Korean Riot Games gave a "death pay" to this guy.
This is not the first time TF Blade has been the centre of a ban controversy by twitch. He also got banned back in September last year for commenting 'dog' and 'unintelligent' at the EUNE and Turkey region.
The situation is still developing and TF Blade has made an official statement regarding this issue on his Twitter handle. Have a look at it down below.
https://twitter.com/tfblade/status/1237688421214081024?s=19
'Cowsep' also came to TF Blade's defense on twitter saying the screenshot posted is not proof enough and the whole thing is a drama of no consequences.
https://twitter.com/Cowsep/status/1237681200711340033?s=19