If you are using TalkTalk internet or other TalkTalk services and they are not working for you. Fret not, you are not alone as many TalkTalk Internet users are also facing the same issue.
Many users have taken the route of Twitter to express their concerns regarding the current outage. Have a look at some tweets down below.
4 days nearly now & still no closer to this being fixed. 4 days! That's like a lifetime for people who rely on this for their business. I demand to know what compensation package talktalk will be offering their east Grinstead, Brighton & hove customers for this loss of service!

— Adam Davidson (@Davey_the_Dave) November 10, 2019
Same here, I live in East Grinstead. No updates at all except to be reminded that we still have to pay the bill. No internet for three days, having to pay for additional data to run a hotspot. Worst customer service I have experienced.

— Natasha Dougherty (@NatashaDougher4) November 10, 2019
@TalkTalk Any reports of outages in Norwich? Broadband down atm with an orange flashing light

— Simon Hewitt (@simonhksc28) November 10, 2019
An outage tracking website, Down Detector also confirms that TalkTalk is indeed going through some glitch & outage in several locations. Have a look at the outage map down below.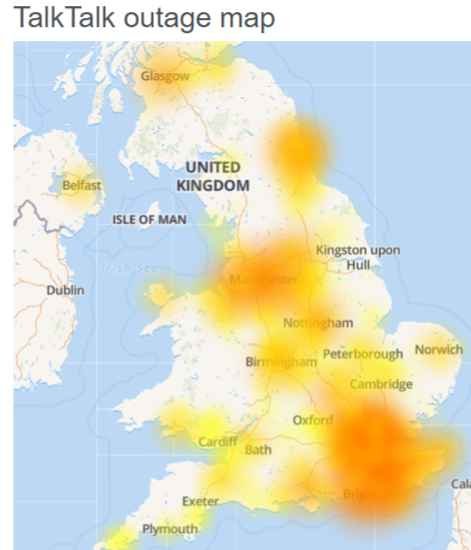 Rest assured we are keeping a close tab on all the developments regarding this issue. Whenever any update or fix arrives for the same, we will update the column.
Let us know in the comments section if you are also facing an outage in your area.