Spectrum Internet & Cable is down & not working for you. Well, it is for the reason, it is currently Spectrum is having technical issues. Yesterday we reported, Spectrum fiber cables were under repair in Van Nuys, Los Angeles, California. But it seems that the issue is not resolved yet as many users are still having issues with Spectrum internet.
Many users have taken the route of Twitter & forums to express ongoing issues and outages. Have a look at a few complaints down below.
@Mandyr1104 @Ask_Spectrum I'm currently out in Louisville, Ky. Is it a nationwide outage stemming from CA?

2020-03-20 07:33:18
@LostAngelLA @Ask_Spectrum WiFi is out, is this an outage in the LA area?

2020-03-20 07:32:37
@quan_thepoet @Ask_Spectrum what is going on? My internet has been down all day and no help from customer service besides there's an outage. I have to work from home and i can't.

2020-03-20 07:30:45
@DesertFoxxxx @Ak_Spectrum i switched from time warner to spectrum about a week ago…internet is down in Encino!!!! Never had a problem with TW!!! Damn it!!

2020-03-20 07:28:21
@BradJW23 @Ask_Spectrum Any info on an outage in Woodland Hills?

2020-03-20 07:27:45
@Sophhieeee @Ask_Spectrum why is my internet suddenly not working? Never had a problem until now, absolutely nothing will load, phone or TV

2020-03-20 07:17:20
@yiling0210 @Ask_Spectrum My internet has been down since earning morning. I made multiple calls to the customer service during the day and all I got was that someone will come on Tuesday! And I have heard multiple people in my building complaining about the same issues

2020-03-20 06:53:59
@EngineMedic @Ask_Spectrum Is there an outage affecting Knob noster, MO ????
Down Detector also confirms that Spectrum is indeed going through some glitch & outage in several locations. Have a look at the outage map down below.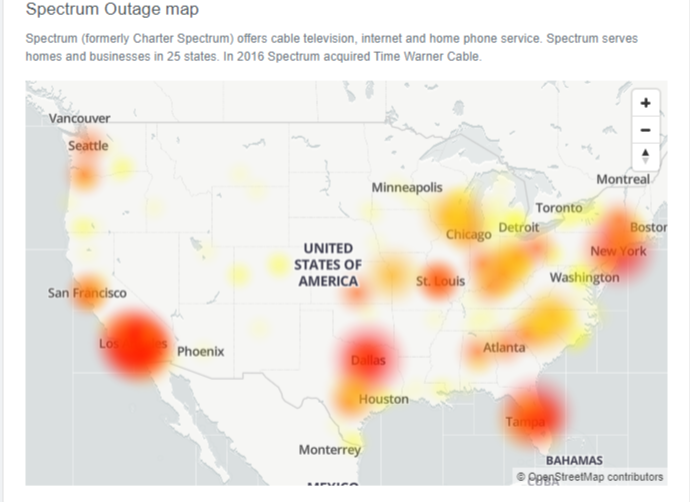 Rest assured, we are keeping a close tab on all the developments regarding this issue. Whenever any update or fix arrives for the same, we will update the column.