New Updates are added at the bottom.
---
Coronavirus Pandemic has taken the whole world down. As the number of infected people is increasing day by day, the number of deaths in the US has passed the 50k mark (as of 24 April). Well, people are bound to work from home, in order to stop the spread of the disease. For that, you need reliable internet, if your work or services are online related.
Well, in these difficult times, Spectrum Internet is having an outage at a few locations which is troubling many users. They have taken the route of Twitter to express ongoing issues & concerns. The most affected area is Los Angeles as per the reports of the users. Check out the tweets below.
@evanwohrman @Ask_Spectrum Is service down in Orange County, CA? Can't connect to Internet, resetting router does nothing.

2020-04-18 07:33:20
@SeeTankSmash @Ask_Spectrum experiencing an outage in 91324. Is this maintenance or an issue?

2020-04-18 07:32:59
@jim71477 @Ask_Spectrum is internet down in the LA area right now?

2020-04-18 07:32:18
@Kslone4 Is @Ask_Spectrum down in Los Angeles? #Spectrum #Internet #TimewarnerCable

2020-04-18 07:25:34
@laydeknoty @Ask_Spectrum is there an outage in the 90032 area code?
Spectrum Outage Map:
Down detector – a renowned service that gives details about live outages – also conveys that Spectrum is indeed going through a glitch in some regions as can be seen in the image below:
Rest assured, we're keeping a close eye on all related developments, and will update the story with relevant info as and when we come across any. So in case, you're encountering the issues discussed here, stay tuned for updates.
Let us know in the comments if you are facing a similar issue.
---
UPDATE: April 23
Spectrum internet is down again at many locations and hundreds of users are complaining:
@CleKidOH @Ask_Spectrum @spectrum outage in West Cleveland area. This shit is getting ridiculous. Why do I continue to pay $80 a month for this shit? I have to reset every night.

2020-04-23 04:27:06
@DistraughtWond @Ask_Spectrum Is there an outage in the 41008 area?

2020-04-23 04:17:02
@BearlySpeaks @Ask_Spectrum internet down for the second time today in 82001, not counting the outage at midnight, what is happening?

---
Update : April 23 (2.30 Pm)
Spectrum internet is down again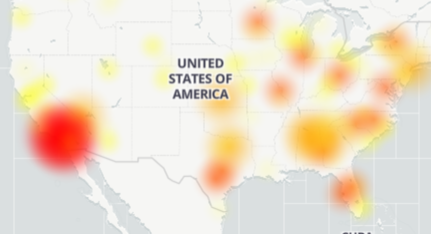 Check out some of the tweets by netizens:
@RyanUrbanec @Ask_Spectrum is internet service down in Casper Wyoming?

April 23, 2020, 2:41 p.m.
@teenpianist13 @KimChannelFutur @Ask_Spectrum No wonder the internet wasn't working today…I thought we just had a problem with our modem/router

April 23, 2020, 2:40 p.m.
@Biyankam2u @ask_spectrum In SoCal no internet service we cannot work or work on school. Will you be refunding this time loss?

---
UPDATE: April 24
Many users are still facing the internet and cable issues. Still no proper response by Spectrum.
@kelby_txt @Liionds @Ask_Spectrum Yesterday I was down for two hours in as well :/ Outages happen but the lack of communication is upsetting and honestly disrespectful to their customers

2020-04-24 05:12:38
@lehelizabeth @Ask_Spectrum cable dvr internet pretty much everything. Not just slow but tv not even working on any channel. Kettering, Ohio 45440

2020-04-24 04:56:50
@ArrDJay Hey @Ask_Spectrum! We're in the middle of a lockdown & your internet, cable & phone "service" have been screwy since yesterday morning. Now, near the end of the NFL draft — when there's finally sports on, the service is out completely. Okay, cool, no – I'm not DMing you. K, bye.