Roku refers to a brand of hardware digital media players manufactured by American company Roku, Inc. They provide access to streaming media content from different online services. The first Roku model was developed in collaboration with Netflix. It was introduced in May 2008. Roku devices are considered influential on the digital player market. It has helped to popularize the concept of low-cost, small-form-factor set-top boxes for over-the-top media consumption. Roku has also licensed its platform as middleware for smart TVs.
Roku offers video services from different Internet-based video on-demand providers. Content on Roku devices is provided by Roku partners and is identified with the use of the term channel. Users can also add and remove different channels with the Roku Channel Store. The official website has not specified the channels that are available for free to the users. Roku has also launched its own streaming channel on its devices in October 2017. It is ad-supported but free for use.
The Roku channel is available on the web since 8th August 2018. They have also included the "Featured Free" section at the top section of the main menu from where users can access direct streaming of shows and movies from its partners.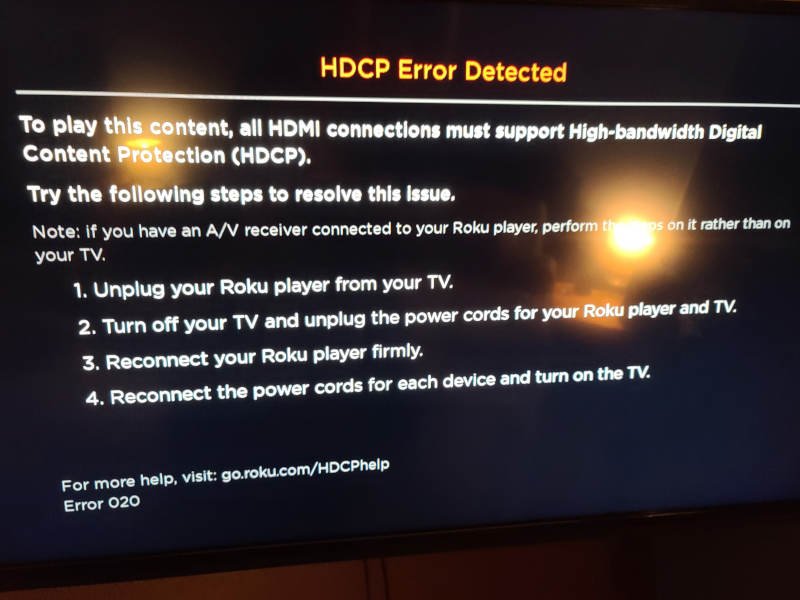 Recently Roku users have reported an error called Error 020 on their Roku devices. Usually, this error means that there is an HDCP error. Now if you don't know about HDCP, let me tell you that HDCP refers to High-Bandwidth Digital Content. It is a type of DRM that is set in place for the prevention of data piracy. The error can occur if the Roku device finds that the TV's content protection technology does not match the one on itself. The error might be caused because of faulty HDMI cables and connectors.
Most of the users complained that they have been getting the error since the last update they did to their device. Users said that they have also tried to reach out to customer care for help but did not get any response. In case if you are facing the same type of issue, there are a few things you can try to fix it –
Check if the screen color changes to purple when you turn on the Roku player. If it does, then it was caused by the HDCP error. This can disrupt your streaming.
Detach the HDMI cable from the Roku player and TV. Ensure to remove the HDMI connector if it is being used.
Power off the TV where the Roku device has been connected. Detach its power cable.
Remove the Roku device's power cable. Re-attach the HDMI cable to the Roku player and ensure that it is connected correctly. Connect the TV's power cable and the Roku device's power cable. Turn on the Roku device and TV.