In this post, we have the most up to date list of Roblox Mining Simulator Codes that you can redeem for tokens, eggs, hat crates, and coins! This is the quickest way to progress forward in the game. By redeeming the hat crate codes given you will get different hats. You can sell them for a huge amount of coins which are useful in upgrading pickaxe and backpack and many more. So, what are waiting for, just scroll down and redeem the given codes in the game.
Roblox Mining Simulator Codes List Updated 2020
Token Codes List
You can use Tokens to purchase things like special event items.
250 Tokens: #ChristmasHype
250 Tokens: AnniversaryTokens
250 Tokens: EpicTokens
200 Tokens: 200Tokens
200 Tokens: 4thJuly
150 Tokens: July21st
80 Tokens: America
75 Tokens: 1Year
75 Tokens: 500m
75 Tokens: SummerTokens
70 Tokens: Challenge
70 Tokens: ILoveTokens
70 Tokens: ImOutOfCodeIdeas
70 Tokens: ImOutOfCodeIdeas2
70 Tokens: ISeriouslyNeedMoreCodeIdeas
70 Tokens: MoreMoreCode
70 Tokens: MoreMoreTokens
70 Tokens: oof
70 Tokens: owo
70 Tokens: Shiny
70 Tokens: sircfenner
70 Tokens: Trails
70 Tokens: TooManyCodes
70 Tokens: Wings
50 Tokens: GetSlicked
50 Tokens: HammieJammieDoesntSuck
50 Tokens: NewQuests
50 Tokens: NosniyIsCool
50 Tokens: SandCastles
50 Tokens: SuperGems
20 Tokens: HammieJammieSucksx2
20 Tokens: HammieJammieSucksxInfinity
Legendary Egg Codes
You can obtain a random pet from Eggs which helps to buff your ability and increase the amount of your ore will sell for.
AnniversaryEgg
AwesomeLegendary
BaconHair
BeachBall
BigL
CoolWater
Demon
Duck
FollowUs
FreeCrate2
JackOLantern
Light
memes
PatrioticStars
Pumpkin
Pumpkins
Rainbowite
SecretEgg
Skies
SummerEgg
SuperSecretCode
TooManyCodesSmh
Valkyrie
Legendary Hat Crate Codes
Hats obtained from redeeming the given codes are very useful. Hats can give a buff to abilities and selling them will return you massive amounts of coins.
Halloween2019
FreeCrate
NewHats
AnniversaryCrate
Adventure
SuperCrate
Fright
HelpPls
Scary
TrickOrTreat
EventQuest
Goose
SubscribePls
yeet
BigW
Witches
Duckie
MineAlot
Sunscreen
Dreamy
Scorch
Lemonaide
Vacation
Patriot
ILOVECODES
Bonus
LegendaryHat
Other Crate Codes
Omega Hat Crate: Ghosts
Legendary Crate: Fluffy
Legendary Skin Crate: Level
Epic Crate: Unobtainible
Epic Accessory Crate: NewTwitch
Epic Accessory Crate: TrailUpdate
Epic Accessory Crate: NoU
Epic Accessory Crate: Dominus
Epic Hat Crate: Toast
Epic Hat Crate: ToyChest
Epic Skin Crate: SandBox
Rare Hat Crate: GummyBears
Rare Hat Crate: Pumped
Spooky Trail Crate: BroomSticks
Spooky Trail Crate: Candy!
Spooky Trail Crate: Ghosty
Candy Corn Codes
60 Candy Corn: Skelly
60 Candy Corn: Skeletons
60 Candy Corn: ThisIsHalloween
40 Candy Corn: Halloween
30 Candy Corn: ScarySkeltons
30 Candy Corn: Spooky
30 Candy Corn: Spook
30 Candy Corn: Spoopy
Coin Codes
Coins can be used to upgrade your storage space and pickaxe!
10,000 Coins: Bread
10,000 Coins: Money
5,000 Coins: Dinosaur
5,000 Coins: Sand
5,000 Coins: Trades
2,500 Coins: JellyBean
2,000 Coins: Candy
2,000 Coins: Coal
How To Redeem Mining Simulator Codes
It is an easy task to redeem codes in the game. Just launch the game and find the twitter button on the lower right corner, click on it, enter the code in the " Code Here" box and click on the enter button to collect the reward.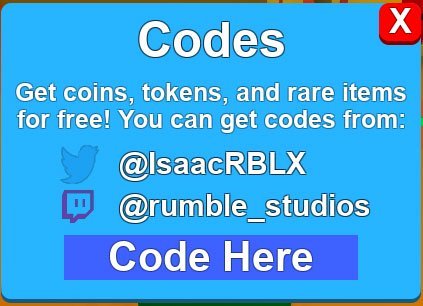 With the coins, you can upgrade various items and progress faster in the game so, it is important to collect more of them and redeeming the codes is the quickest way to get them. Therefore, redeem these codes today before they get expired.