Roblox is a game development tool and online game platform created by the Roblox Corporation. It enables users to develop games as well as play games developed by others. At Roblox's Gucci Garden interactive installation, there's a catalog of limited-edition items that are only available at particular times of the day. The Gucci Denim Wide Brim Hat item is now available for free until May 31, 2021. In this blog, we have mentioned how you could get this item for free.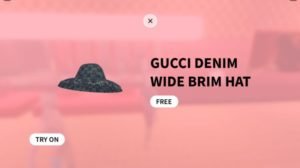 About Roblox
Roblox's proprietary engine, Roblox Studio, allows users to design their own games. These games can then be played by other Roblox users. To manage the game's environment, games are created using an object-oriented programming system that uses a dialect of the computer language Lua.
Users can produce downloadable content through one-time purchases, known as game passes. Microtransactions, known as developer products or products, can be purchased several times.
How to get free Gucci Denim Wide Brim Hat Free?
Inside the display, gamers should look for Gucci's denim wide-brimmed hat, although it's not a challenging scavenger hunt. The headgear may be found inside the bathroom, which is only one of the numerous rooms that visitors will pass through throughout their visit to the exhibit.
All rooms are constructed at random, however, they will almost certainly all end up in the bathroom at some time.
Once inside the bathroom, open all the stalls. Stand in front of the stall with the Gucci eye logo painted on the wall when all the stalls are open. Turn around and view yourself in the mirror. Users should be able to interact with a button situated to the right of the eye's reflection while looking in the mirror.
Click that interactive button to redeem Gucci's Denim Wide Brim Hat for free.
Wearers will receive the Gucci denim wide-brimmed hat in their avatar inventory upon redemption, and it will stay there indefinitely. For finding this hidden object, users will also receive an in-game medal.
Only till May 31, 2021, is the Gucci Garden display and the Gucci denim wide-brimmed hat available. Users will most likely be unable to redeem this free Avatar item after May 31.