Roblox is an online gaming platform and marketplace where users may purchase and play games. Roblox is not a game; rather, it is a platform where individuals may play games created by other creators. What distinguishes Roblox from other game platforms, including storefronts such as Steam, is that all of its games are created by its users. On Roblox, the joy comes not just from playing games, but also from creating them. In this blog, we have explained you could buy the Gucci Bloom Perfume at the Roblox Gucci Garden Event.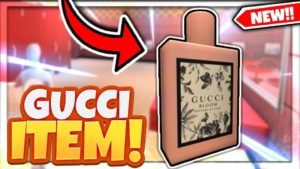 About Roblox Studios
Roblox Studio, the company's original software, allows users to design their own games, which can afterward be played by other users. To modify the game's environment, games are created using an object-oriented programming framework and a dialect of the computer language Lua.
Roblox allows players to buy, trade, and create virtual things that can be used to customize their avatar, which is a virtual character. Anyone can buy clothes, but only gamers with a premium membership can sell them. Only Roblox administrators can sell accessories, body parts, gear, and packages through the official Roblox user account; virtual hats and accessories can also be published by a small group of users who have previously worked with Roblox Corporation.
How to get Gucci Bloom Perfume at Gucci garden Event in Roblox?
Gucci keeps introducing new items into the game. They are for a limited time, but once purchased, they remain in the player's inventory forever.
The Gucci Bloom Perfume is available only for 48 hours and costs 175 Robux. Here is how you could get the item:
Open your Roblox and head to the ongoing event of Gucci near the garden side.

Then you can walk over to the window and you'll be able to see several items which are available as well as expired.

Look for the 'Gucci Bloom Perfume' and then double click on it.

Click on '175 Robux' and then a pop-up will appear, from there, click on 'Buy Now.

Then, Tap on 'Okay' and the window will get closed.

Finally, go to your Avatar edition and in the Recent tab, you will see your latest purchase of the Gucci Bloom Perfume.

You can also try it on and view yourself.
These steps were for buying the Gucci Bloom Perfume at 175 Robux.