The awaited Flood Escape 2 Agility update is here! It fixes some bugs and adds new fine-tuned mechanics. Here is everything you need to know about this update.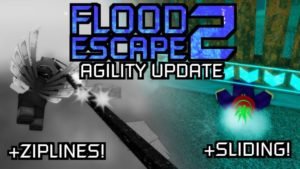 Flood Escape
Flood Escape is an amazing parkour-adventure game made by CrazyBlox which is available on Roblox.
This game was publicly released in August 2011. This game was quite easy to play and featured very few mechanics. The original Flood Escape can still be played as a Retro mode in the current version. The old lobby was changed in the new Flood Escape game. In 2019, the Bonus Round was disabled from the game, which upset a lot of its fans.
Flood Escape 2
The Flood Escape 2 is the successor of the earlier version created by Crazyblox games. It turned about to be a breakthrough sequel. Players could play through massively open maps and swim through the water with air. Also, the update allowed players to play in groups of 12. It also allowed the users to level up and buy items inside the game.
Gameplay
The new version is much more open, larger and versatile than the original one. You need to go through the interesting maps while making sure your air stays up. If the bar depletes you will drown. That will result in failing the round. In this game, people must press buttons to pass any obstacles on the map and have to et to the end zone. XP and coins will be rewarded if you survive a map. Moreover, if you are able to collect enough XP you can level up which will earn you 5 Gems.
Difficulty
The maps are categorized by difficulty levels. It has levels such as; easy, normal, hard, insane, and Crazy. The Crazy difficulty level was not present in the game when it was released.
Flood Escape 2 Agility Update
The recent update of this game has some amazing new features. The Agility update adds two new mechanics: Slide mechanic and Zipline mechanic. The game also updated 19 maps. The Anti-Cheat issue was fixed. Also, all the bugs were also fixed by the developers for this game.
The new update has made this game much more interesting where previously it was only jumping and swimming. The Agility update offers a wholesome new experience that you will like a lot.
Then get ready to show your parkour moves, cause it's show time!