Developed by Prisman, the game features assassin with an array of weapon skins, customization options, and a plethora of other features. The biggest feature in the game is the tier system which goes hand in hand with the concept of Assassin! The tier system contains Common, Rare, Legendary, and Exotic tiers!
Furthermore, a sequel to the renowned Assassin! is being created by Prisman and Plutonem along with builders Nuxia, Onych and Ziplicit!
New update: Freeplay mode! Open play with power-ups

New update: Shop changes, Missions revamp, Insanity special round, other things

May 2020 Competitive Season is online! New top prizes! Hope everyone is staying safe! Hunt your target, but watch out for your assassin! Collect and trade hundreds of knives! Compete in multiple game-modes, ranked formats, and more!
Redeem Codes
The mechanic for redeeming is a little weird but not too complicated. As you launch the game look for a gear icon. You will get a setting pop up like this: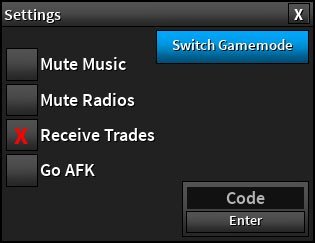 You can see the small box in the bottom right corner with code, there you can enter the codes from the list below and get your reward.
Assassin! Codes May 2020
Here's a look at a list of all the Assassin! Codes:
Free Common Purple Nation Knife: NO_DATA
Free Common Walrus Pet: walruspls
Free Common Floating Knife Pet: PRISMANGAMES
We will keep the list updated with more codes. But be sure to redeem the above codes as they might expire anytime. All the codes are tested beforehand and will provide you with some interesting things in the game. Be sure to comment down below any codes that are expired and which you feel is the best code in the game.
Here the knife is your main fighting weapon and you can use the cosmetic pets that follow you around. There are multiple styles of knives that you can collect to style on your opponents.
---
SEE ALSO:
---
Source: Progameguides