Rampage Games – The Chinese video game developer, acting as an in-house development studio for parent company Shanghai MOBA Network Technology, established in 2016. Rampage Games is devoted to developing high-quality competitive games for home consoles and PC. Rampage Games core team consists of experienced gaming industry veterans with experience in multinational companies and development studios.
Developer Rampage Games announced GENESIS, a brand-new Multiplayer Online Battle Arena (MOBA) experience optimized for controllers back on August 12, 2019. The game hasn't completed a year and sadly it is shutting down. Genesis official tweeted about the shutting down of the game, however the exact of the closer wasn't revealed. Check out the official tweet below:
Dear Genesis Community,

We regret to announce that Rampage Games will be shutting down Genesis sometime in the near future.
Closer information following soon.

Regards,
your Genesis-Team
Players who are looking for a refund, there is some bad news. Genesis official twitter handle replied to users who asked for a refund that the Refund will not be possible as Rampage games said no. Check out some of the official replies below:
Genesis also tweeted the following on their twitter handle, explainig the full details of the real cause behind the shutting down of the game.
We have been informed that after an
unsatisfactory launch the investment firm behind
Rampage Games has decided to pull their support
and seek other ventures. Unfortunately Rampage
Games being a young studio they don't have
enough capital to provide continued support to
the game on their own.

Unfortunately, we don't have any specific
information beyond this and that Rampage has
the downside to just 3 employees who are tasked with
maintaining the servers until they shutdown.

We also don't know exactly when the service for
Genesis ends, but we expect that the game will
only last for a few more months unless a new
the investor comes along. In the meantime, there will
be no more updates beyond maintenance.

We all had a great time trying to build and grow
this community with all of you and were deeply
saddened with the news that it's coming to an end.
Most of us will probably stick it out here in the
discord until the very end. When the servers do go
down though we're not entirely sure what will do
with this discord server, but we will mostly close it
as well. :
Regards,
your Genesis-Team
+ Nachricht an #fan_art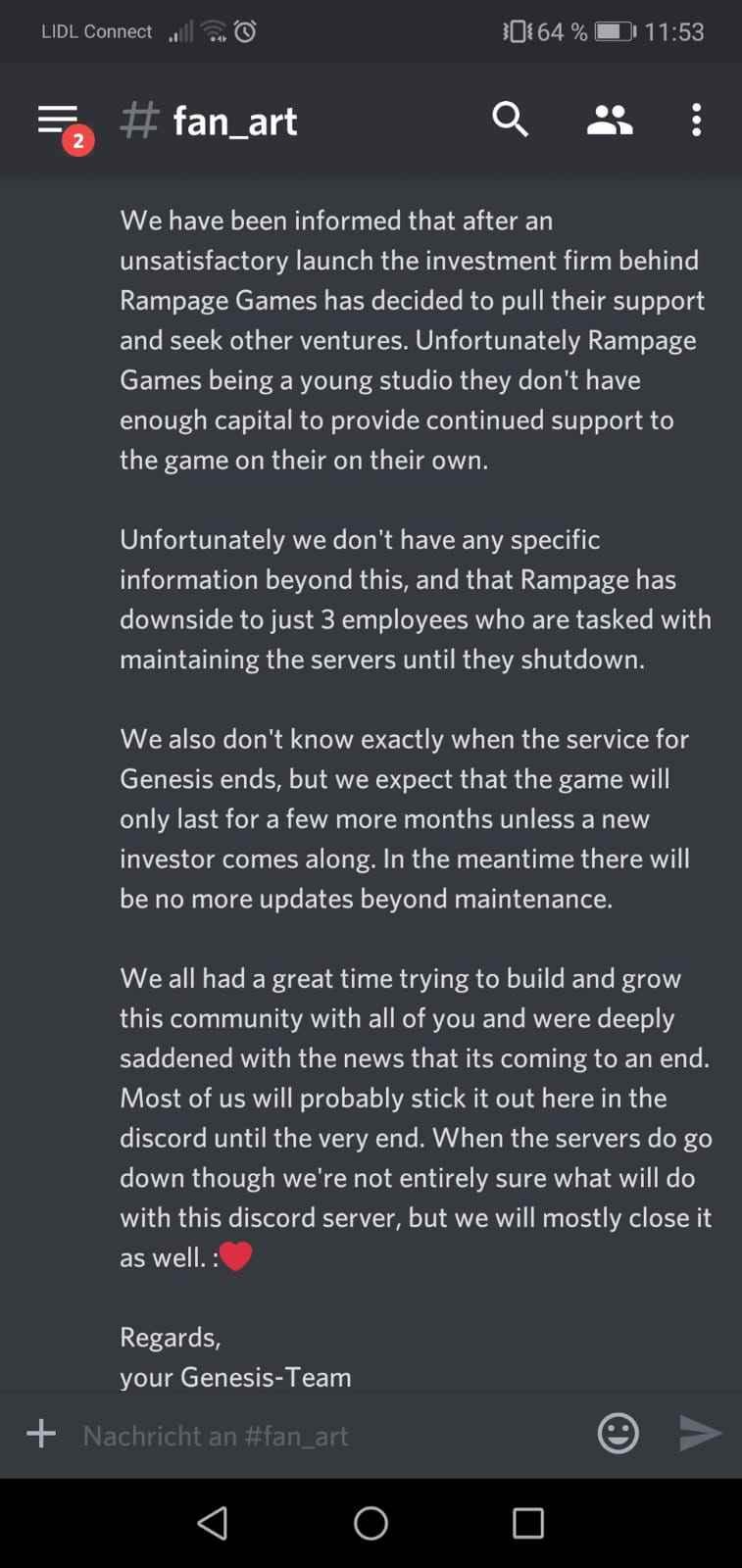 What going on with Genesis was explained by General Kenobi on Reddit. Check out the details below:
We hope Genesis may find some other investor or at least if the game shuts down than Rampage may return refunds to the players who have invested in the game. Rest assured, we will be updating this post with more info as and when any relevant development arrives. Stay tuned!