PlayerUnknown's Battlegrounds is one of the popular online multiplayer battle royale game. The game is developed and published by PUBG Corporation, a subsidiary of South Korean video game company Bluehole. Last week, the developers rolled out a new update for all platforms which brought the new season 6 and new content across PS4, PC, and Xbox One.
Recently, several PUBG players have been posting on social media platforms about an issue. According to the users, the game is crashing continuously, and can't be played on PC platforms. Users also mentioned that the crashing issue is occurring on both Xbox One and PS4 too.
Well, the PUBG crashing issue has been addressed officially by the social media team of PUBG. According to the official Tweet by PUBG Support, the developer team is currently investigating the cause of the crashing issue.
Not only this, the official tweet by PUBG Support also mentions that the players can visit the official forum to report if they experience any kind of crashing issue.
Check out the official tweet posted by PUBG Support.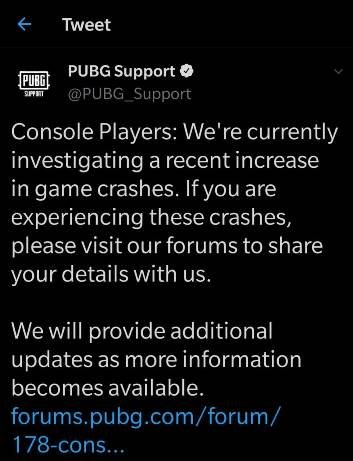 Stay tuned, we will update this space with the latest related news and updates.