Pokémon Go is the most popular and critically acclaimed augmented reality mobile game. It is a free-to-play game but features in-app purchases. Niantic added many notable features to the game in 2019 which helped the game to keep grow further.
Recently, SuperData has released it's "Year in Review" report, where it revealed that Pokémon GO generated $1.4B US Dollars in 2019. Niantic added some new Unova region Pokemon in 2019 & it also added Team Go Rocket which made the game more popular in 2019.
Coming to now, Minccino Limited Research Day has arrived in Pokemon Go. This event runs from 2 pm to 5 pm local time. During the event, Minccino appears in the game. So, don't let this opportunity go and get this Generation V Pokemon.
The event has already ended in some parts of the world, but European and African regions are still left with the event. If you live in these regions, keep your trainer ready to catch Minccino.
Pokémon GO Minccino Limited Research Day Event Tasks
You will need to do the tasks mentioned in the infographics below: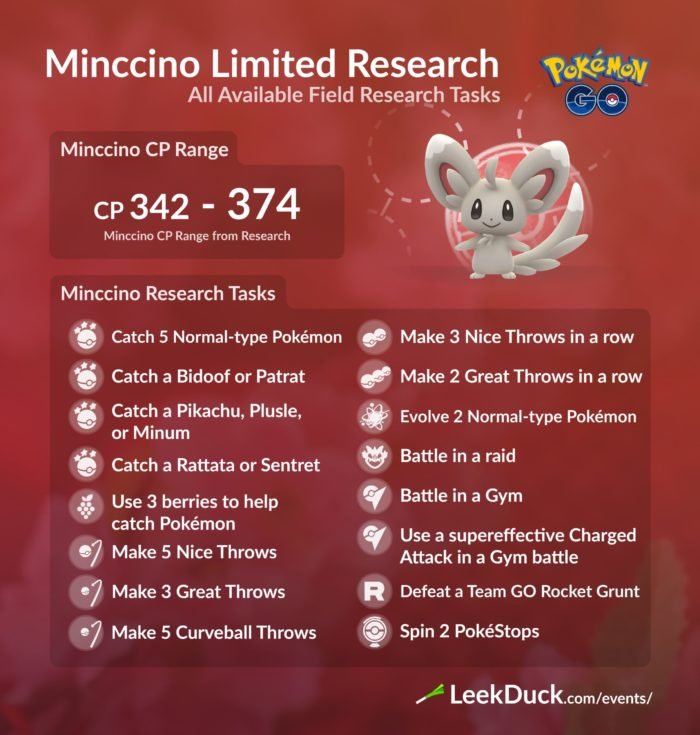 Here are the features of the event:
Features
Field Research: Minccino Limited Research tasks will allow you to encounter Minccino.
Pokémon that fit the theme of the Year of the Rat will be appearing more frequently in the wild. Look out for Rattata, Raticate, Pikachu, Sandshrew, Nidoran♀, Nidoran♂, Sentret, Marill, Zigzagoon, Plusle, Minun, Bidoof, and Patrat.
Minccino in 5 km Eggs: Minccino will be hatching more frequently from 5 km Eggs. After the event ends, Minccino will continue to be available in 5 km Eggs.
Shiny Minccino will be available! If you're lucky, you might encounter one!
For more updates, stay tuned.