eFootball Pro Evolution Soccer, also popularly known as PES, is a football simulation game series developed and published by Konami. The soccer-based game is available on all major gaming platforms such as Windows, PlayStation 4, Xbox One, Android and IOS.
Just in case you're trying to get your head around why PES 2020 is not working for you or throwing connectivity issues, find solace in the fact that you are not alone, many others are facing the same issue.
Recently a lot of PES 2020 players are reporting about the issues occurring in the game. According to the users, the PES servers are not responding.
Well, if you are facing the same issue, let us tell you that the PES 2020 servers are currently down. The company has taken down the servers for maintenance.
Xbox Support officially addressed to the PES fans out there and mentioned that the eFootball PES 2020 servers are currently down for server maintenance and are unavailable.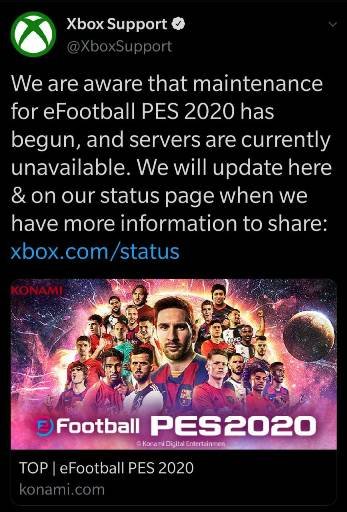 Well, the tweet also mentioned the link to the server status of the game. You can follow the link to keep yourself updated with the server status. Also, we will be updating this post with the latest status of the server. Stay tuned!
---
[Update – February 06]
If you are wondering why is PES 2020 down for you? Let us tell you, PES 2020 servers are currently down for all. Konami has taken the servers offline for the scheduled server maintenance today, that is, February 06, 2020.
Servers are taken offline for all platforms – Xbox, PS4, PC including the mobile platforms Android and iOS.
The game will not be available for a few hours.
Stay tuned, as we will be keeping an eye on the related news and updates.