Roblox has a plethora of games hosted on the platform. For people looking for some quality time spent in a well-regulated community, Roblox games are your best bet. One such game is Overlook Bay. In this article, we will look at the Overlook Bay 1.9.0 update details that have been released by the developers. Here's all you need to know: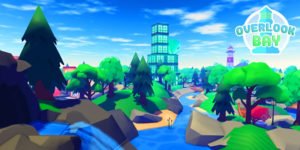 Overlook Bay
Before we look into the details, let us look at the game itself. So what is Overlook Bay? Overlook Bay is a next-generation roleplay game that is hosted on Roblox. The game involves several aspects of a simulation game, combined with the facility to play the game online.
If you've been on Digistatement before, you might have heard about Adopt Me, another game on Roblox. Adopt Me happens to be the most played game on the platform, and quite similar to Overlook Bay. Overlook Bay allows users to play minigames, adopt pets, create their own homes, and so much more. if you haven't already done so, check the game out!
Overlook Bay 1.9.0 update details
Updates bring in new features and events. The same is true for Overlook Bay. on May 10, Wonder Works Studio, the developers behind Overlook Bay, released a tweet with the new update details. The tweet can be found here:
Coming this Friday to Overlook Bay! 🌋🔥 Like this tweet if you want more tea! 🍵@RBXstarwars @HolidayPwner and @ShiiroShogun have been working hard on it! 🙏 pic.twitter.com/NhBxya2ujx

— Wonder Works Studio (@WonderWorksRB) May 10, 2021
The update brings in a lot of new features. Here are the details as listed in the post:
Ability to enter molten mines(requires level 50)
Buy Instant mining level 50
New drills to mine crystals
New mining pass and rewards
Special rod to fish in lava!
3 new molten pets to unlock
25 new player levels and title
Star Code that is "MEGANPLAYS"
The tweet also detailed the release date of the Overlook Bay 1.9.0 update, which will go into action on Friday, May 14. The update will also have more features, as Wonder Works Studios hinted to when they mentioned "more tea". We can't wait till the update is officially released!